An Unexpected Battle with COVID-19
With unknown underlying medical conditions, 43-year-old father and fiancé Will Rhodes of Jackson found his life taking a drastic turn after contracting COVID-19 in February 2021. Finding himself in the hospital for over a month, his story is a true testament to what one can go through following a COVID diagnosis.
Tell Us About the Beginning Stages of Your Course with COVID
"I contracted COVID at the beginning of February. I was coming off of nine days of working at Procter and Gamble, so even though I had started to feel bad, I figured it was tiredness from working. I passed our temperature checks daily but when I got to work I knew something was not right. My supervisor recommended I go home and monitor my symptoms. From there, I could not eat or get out of bed and had a bad cough and fever. My fiancé tested positive for COVID the next day, so I did a drive-thru test and tested positive. The doctor gave me medications and treatments to take at home, but it did not seem to help."
When Did You Come to the Hospital?
"As my symptoms progressed, my fiancé called her doctor, and they told her if I could not walk or talk that it was time to go to the hospital. I am stubborn, so I insisted on waiting until the next day. The next morning I tried to get out of bed to get something to eat and collapsed. At that point, I agreed to go to the hospital. When I got to the emergency room, I had to sit at the doors because I could not stand up. A nurse came to get me with a wheelchair and took me back to a room."
What Was Your Experience Like in the COVID Care Unit?
"When I got to my room, they began taking my vitals and put me on oxygen. It was not long before the room filled with people. They were drawing my blood, giving me IVs and put a high-flow nasal cannula on me with a mask over it because my oxygen was 53 at that point. The doctor told me it was up to me, but her recommendation was intubation. My only request was to call my fiancé and children to let them know I loved them because, honestly, I was scared I was not going to wake up again. I wanted to have a fighting chance at least, so after calling my family, they put me to sleep, and I stayed on the ventilator for ten days."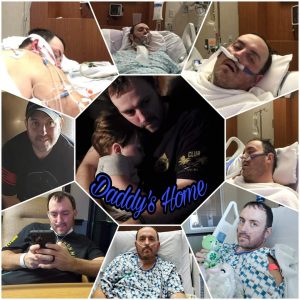 What Was it Like Coming Off the Ventilator?
"I was having what they call ICU delirium. It was pretty upsetting that I could not be with my kids. I was stuck in the hospital, unsure of what day it was and struggling to do simple things like swallowing or talking. It was strange seeing myself because I lost 30 pounds, and my beard was shaved off. Facetime with my fiancé and kids was nice, and the nurses and medical staff were amazing. I decided to stay in the hospital for inpatient rehab. I was moved to the inpatient Tower to rest, recover and get my oxygen use low enough to start the rehab process."
What Were Your Goals Through Inpatient Rehab?
"My first goal was to be able to pick up my two-year-old. My second goal was to be off oxygen when I went home. I am a big bowler, so my next goal was to be able to bowl again. My last goal was to be able to play guitar again."
How Did the Therapists Work with You to Achieve These Goals?
"Dr. Hunter and her team were always very encouraging and creative with the therapies to help reach my goals. They worked to build up my general strength – I never had to use a walker again after my first day. I used a medicine ball to regain my balance for bowling. I used a donated guitar to build strength in my hands again. Since it was springtime, I was the first COVID patient in inpatient rehab who walked through the Healing Arts Garden, which was a neat experience and the fresh air helped a lot. Over time, I reached most of my goals and passed the evaluations to be discharged from the hospital on Tuesday, March 9."
Do you Have Any Long-Term Effects?
"The brain fog is horrible. I did not drive for a long time because we would be driving, and I would forget where we were going or where we were. Sometimes, I do not remember my phone number or what I am doing when going into a room. I still get tired easily. My oxygen does not drop, but I get winded if I do anything too strenuous. I still have to sleep with oxygen and have some shoulder issues from being turned on the ventilator. But, the worst of it all is that COVID brain fog."
Did You Have Any Comorbidities Before Contracting COVID-19?
"I did not know at the time, but when I was admitted to the hospital, they discovered I had underlying type 2 diabetes. I had all the symptoms – weight loss, frequent trips to the restroom, increased thirst and blurry vision. I typically work 12 hour days, so it was easy to ignore and look past the signs. Even though many people think they will be fine with COVID and have no comorbidities, they could still have underlying conditions affecting their COVID course. I now tell people to watch how their body reacts to things daily, and if they think something is off, do not be stubborn. Go get it checked out."
What Has Your Life Been Like as You Have Recovered from COVID?
"I have started to get back into bowling, playing guitar and being with my family. I am still terrified about getting sick with COVID again. I try not to go to busy places, and I wear my mask everywhere because it makes me anxious without it. The first time I went to Schnucks, someone behind me in line without a mask began coughing nonstop, and I almost had a panic attack – I could not handle it. I recently was fully vaccinated, and all my kids who are able are fully vaccinated. I also post videos on Facebook talking about rises in cases, vaccines, my experience with COVID and what people can do to slow the spread."
Is There Anything You Would Like to Add About COVID-19 and Your Experience?
"The week I left the hospital was the week Saint Francis closed the COVID unit. I was one of the last patients. When I saw the unit was reopening, my heart dropped. I used to be one to say getting vaccinated was your choice, but now I am pushing for people to take care of themselves: if you are sick, stay home and, if you can get vaccinated, please get vaccinated."
---
Learn more on our COVID-19 page. To schedule an appointment for the COVID-19 vaccine, call 573-381-5958.