In an effort to limit possible exposure to COVID-19 in the Emergency Department waiting room, Saint Francis Medical Center opened a non-emergent drive-thru COVID testing clinic (community-wide Coronavirus Test Collection Center at Arena Park) where swabs can be obtained from you while you remain in your vehicle. For this reason, Saint Francis is shifting all of its outpatient COVID testing to one of our testing sites and will not be performing outpatient COVID testing in the Emergency Department.
If you feel you may have COVID, please call the Coronavirus Community Nurse Hotline at 573-331-4200 between 7 am and 5 pm for instructions; if you meet the CDC and DHSS testing criteria, you will receive further instructions on obtaining a test. If you do not meet criteria, please call your primary care provider for instructions. If you feel you have a medical emergency, such as chest pain, stroke symptoms, severe shortness of breath, etc., please call 911 or come to the Emergency Department for evaluation.

What Steps is Saint Francis Taking?
Ventilators
We're sharing how ventilators work and why they are so important in the fight against COVID-19. Recorded on April 3, 2020.
Hand Hygiene Saves Lives
We're showing you the proper hand washing technique to keep you and your loved ones safe. We will also take you inside the Incident Command Center for the latest updates on COVID-19. Recorded on April 2, 2020.
Proper Usage of PPE
We're showing you the importance of proper technique when our staff puts on and removes personal protective equipment (PPE). These measures ensure their safety while caring for patients on our COVID Care Unit. Recorded on April 1, 2020.
Closures, Cancellations & Restrictions
Saint Francis is taking the following steps to protect the health of our patients, visitors, providers and colleagues:
NO visitors are permitted at Saint Francis Medical Center.

OB, NICU and pediatric patients may have ONE visitor. Visitors must enter and be screened at Entrance 4 between 5:30 am and 10 pm. Visitors must stay in the room. If the visitor leaves the Medical Center, no reentry will be permitted.
No visitor under the age of 12 will be permitted. We recommend that anyone over the age of 55 not visit Saint Francis Medical Center. View Saint Francis COVID-19 Visitor & Entrance Restrictions (PDF)
All visitors will be screened upon each entry into the Medical Center.

We are restricting entrance into the Medical Center until further notice. If an entrance is closed, please proceed to another open entrance.

Entrances 1, 5, 6, 7 and 9 are closed. Only laboring mothers will be permitted entrance at Entrance 5.
Entrance 2 will be open Monday through Friday from 7:30 am to 7 pm and Saturday from 9 am to 2 pm.

Entrance 3 will remain open at all times.

Entrance 4 will be open Monday through Friday from 5:30 am to 10 pm and Saturday and Sunday from 7 am to 10 pm.

Entrance 8 will be open Monday through Friday from 7 am to 5:30 pm.

Saint Francis Medical Center has postponed all elective surgeries and procedures until further notice.
Immediate Convenient Care – Jackson is closed until further notice in response to the COVID-19 pandemic. Please call the Coronavirus Community Nurse Hotline at 573-331-4200 for COVID-19 screening. Immediate Convenient Care – Cape Girardeau is open to take non-COVID medical needs.
Both Fitness Plus locations (Cape Girardeau and Dexter) are closed until further notice. When Fitness Plus re-opens, all members will receive a credit reflecting the time closed.
Mass will be privately celebrated by Father Alexander and personal attendance will be through Channel 22 only. Mass can be viewed daily on Channel 22 in the Medical Center Monday-Thursday at 11 am and Friday at 10 am The chapel is always open for individual prayer (except during Mass). We encourage colleagues to sign up for Adoration and prayer by contacting Pastoral Care at x5146 or signing up in the Pastoral Care office. Colleagues may sign up for 20-60 minute increments from 8 am-6 pm Monday-Friday.
Outside clergy members are no longer permitted to visit patients. We will utilize our own Pastoral Care staff and electronic methods to minister to patients.
Floral deliveries to Saint Francis Healthcare System locations from outside vendors is suspended.
We are suspending volunteer services and valet services. Beginning Friday, March 13, volunteers will no longer be on-campus until further notice. The Tower Gift Shop will have limited hours and will be open Monday through Friday, 10 am to 2 pm.
The Saint Francis Easter Egg Hunt has been cancelled.
All on-site support groups and classes are temporarily cancelled.
Visit KeepCapeStrong.com for more information on local COVID-19-related resources and closures.
Precautions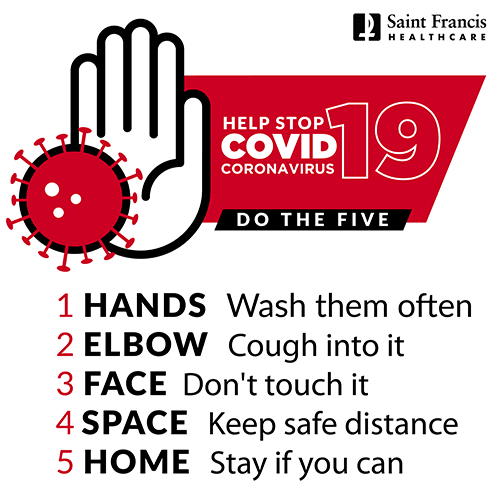 The Cape Girardeau County Public Health Center has recommended that residents adhere to the the following guidelines:
Limit your public exposure. Go to work, conduct essential business, and go home.
Limit gatherings to groups of 10 or fewer.
Implement personal protective measures, such as staying home when ill and washing hands frequently.
Avoid non-essential travel.
Actively engage in social distancing by staying at least 6 feet from others.
Saint Francis recommends taking the following additional precautions:
Avoid personal contact (shaking hands, etc.)
Do not share drinks
When not able to wash hands, use a hand sanitizer that contains alcohol
Avoid touching your face with unwashed hands
Stay home if you have a respiratory illness. If you suspect a COVID-19 infection, consult our online COVID-19 questionnaire for further guidance.
COVID19-stop-the-spread-of-germs

Notes of Encouragement
Read messages of support from the community for the Saint Francis Healthcare System providers and colleagues on the front lines of the battle against the COVID-19 pandemic. Add your own note of encouragement in the "Show Your Support" section below.
You guys FREAKIN ROCK! You know better than anyone how serious this thing is and you've chosen to serve in the most critical area – at the bedside. Your dedication to our patients and our community is awe-inspiring and I ask special protection and blessings over each one of you and your families. I pray a hedge of protection around so that you can operate fearlessly as you love on each patient and bring healing to our community. You are blessed, you are warriors, you are our heroes! Thank you for answering the call!Jimmy
Cape Girardeau, Missouri
Thank you for your selfless work! I pray for protection and health for you, your loved ones, colleagues and those you are caring for. We are in this together and we all appreciate the important work you are doing.Christy
Jackson, Missouri
I think you all are AWESOME!! Just know I am praying for you all and you have my total support! Keep rockin on guys 🙂Lesia
Doniphan, Missouri
You guys are the nameless superheros of the hospital. Keep doing what you're doing, words cannot thank you enough. Know that our hearts and prayers are behind you all the way. Stay strong, and God bless you all.Amy
Scott City, Missouri
Thank you for your duty and assistance during this time of uncertainty. I am praying for all of the nurses, doctors, and front-line staff and workers.Yvonne
Scott City, Missouri
Thank you to every healthcare worker continuing to care for our patients and those working the frontlines! Stay strong! Stay vigilant! Praying for everyone daily! We appreciate and commend you for your hard work every single day!Mandy
Jackson, Missouri
From the outpatient side-we so appreciate your willingness to work at the bedside with these high risk patients! I think about you often as I'm screening patients and doing virtual visits. I know it's long hours and tough situations but Sfmc chose the best to staff it!Laura
Jackson, Missouri
Thank you for all do everyday when you start your day or night just we love think about you and your the best. God Bless You.Harold
Park Hills, Missouri
To the staff at St. Francis,

Thank you for your bravery and diligence during this time. Your efforts and work are not in vain. I pray God's hand be upon you, your patients, and your loved ones. I pray God will keep you in health and cause you to be a light in this time of darkness. Thank you for your services. Continue to fight the good fight of faith. You are in God's gracious hands.Tiffany
Cape Girardeau, Missouri
Thank you for sacrificing your time with your family and home life to help the sick in needAnonymous
Mexico, Missouri
I just wanted to give you all of my blessings. I am so happy that all of you are here for us and here to help us all. You risk your lives every day to make sure we dont have to. We are all so grateful to have all of you and happy that you are here for us. You were chosen to protect all of us. I hope you all are safe and I hope you know I'm praying for you.Meg
Leopold, Missouri
Thank you so much for all you do! I will stay home for YOU!

Emily
Cape Girardeau, Missouri
We appreciate all the caregivers at St. Francis as well as the support staff during this critical time. To each and every person at St. Francis, thank you!Judy
Jackson, Missouri
The Lord is my strength and my shield; my heart trusts in him and he helps me. My heart leaps for joy and with my song I praise him. ~ Psalm 28:7. Thank you for working so hard and putting yourselves out there to fight the virus! You're our heroes!Taylor
Leopold, Missouri
To all of our healthcare workers who stand on the front line of this war against this dreaded Covid19. THANK YOU! I'm sure it is very scary for you and your families. I appreciate everything you are doing and you are in my prayers daily. Stay safe!Trudy
Jackson, Missouri
Show Your Support
Show your support and gratitude to those caring for patients on the Saint Francis COVID Care Unit
Leave an uplifting message for the staff and patients: