Saint Francis Healthcare System operates multiple testing locations throughout the region. All testing locations are by appointment only; a pre-screening is required.
If you feel you may have COVID-19, please call the Coronavirus Community Nurse Hotline at 573-331-4200 between 8 am to 4:30 pm Monday through Friday for instructions; if you meet the CDC and DHSS testing criteria, you will receive further instructions on obtaining a test. If you do not meet the criteria, please call your primary care provider for instructions. If you feel you have a medical emergency, such as chest pain, stroke symptoms, severe shortness of breath, etc., please call 911 or come to the Emergency Department for evaluation.

Please Wear a Mask!
What Steps is Saint Francis Taking?
Closures, Cancellations & Restrictions
Saint Francis is taking the following steps to protect the health of our patients, visitors, providers and colleagues:
Effective Wednesday, July 29, Saint Francis Medical Center will permit ONE visitor per patient. Visitors are not permitted for the COVID Care Unit. Further restrictions or exceptions related to OB, Pediatric, ICU and NICU patient visitors are listed below.

Visitors must be 18 years or older.
Patients and visitors must provide their own mask. Masks with valves are not permitted. Masks must cover the nose and mouth.
Visitors must keep their mask on at all times. Patients must remain masked at all times unless instructed otherwise by a provider as part of an exam.
All patients and visitors will be screened upon each entry into all Saint Francis locations. Anyone experiencing COVID symptoms will not be permitted entry – fever and/or new onset or worsening cough or shortness of breath.
Patients and their visitor do not need to social distance from each other but are required to maintain six feet socially distanced from others at all times. Waiting areas will have limited, socially distanced seating to limit contact with others.

OB and pediatric patients may have ONE visitor. Visitors must enter and be screened at Entrance 5. Visitors must stay in the room. If the visitor leaves the Medical Center, no re-entry will be permitted.
ICU patients may have ONE visitor. Visitors must enter and be screened at Entrance 4 between 10:00 am – 12:00 pm AND 2:00 pm – 6:00 pm. Visitors must stay in the patient's room. If the visitor leaves the Medical Center, no re-entry will be permitted. No visitor waiting room available.
NICU patients may have a designated parent, who will be allowed to visit the NICU once each day. This parent will enter through Entrance 4 during open hours and will be screened upon entry. The parent will also be required to stay in the zone until departing home for the day. We will continue to offer three meals each day if needed. Parents will not be allowed to have food delivered or bring in outside food in original packaging.
Surgical patients requiring an overnight stay may have ONE visitor. Patients will be tested for COVID-19 prior to the scheduled procedure. Visitors must stay in the room. If the visitor leaves the Medical Center, no re-entry will be permitted.
We are restricting entrance into the Medical Center until further notice. If an entrance is closed, please proceed to another open entrance.
Immediate Convenient Care – Jackson is closed until further notice in response to the COVID-19 pandemic. Please call the Coronavirus Community Nurse Hotline at 573-331-4200 for COVID-19 screening. Immediate Convenient Care – Cape Girardeau is open to take non-COVID medical needs.
Both Fitness Plus locations (Cape Girardeau and Dexter) are closed until further notice. When Fitness Plus re-opens, all members will receive a credit reflecting the time closed.
Fresh Healthy Cafe will close at 3 pm each day.
Mass will be privately celebrated by Father Alexander and colleagues only. Mass can be viewed daily on Channel 22 in the Medical Center, Monday-Thursday at 11 am and Friday at 10 am The chapel is always open for individual prayer (except during Mass). Adoration occurs daily from 12-4 pm. Colleagues are encouraged to sign up for Adoration by calling Pastoral Care at x5146.
Outside clergy members are no longer permitted to visit patients. We will utilize our own Pastoral Care staff and electronic methods to minister to patients.
Floral deliveries to Saint Francis Healthcare System locations from outside vendors is suspended.
We are suspending volunteer services.
All on-site support groups and classes are temporarily cancelled.
Visit KeepCapeStrong.com for more information on local COVID-19-related resources and closures.
Data & Projections
Precautions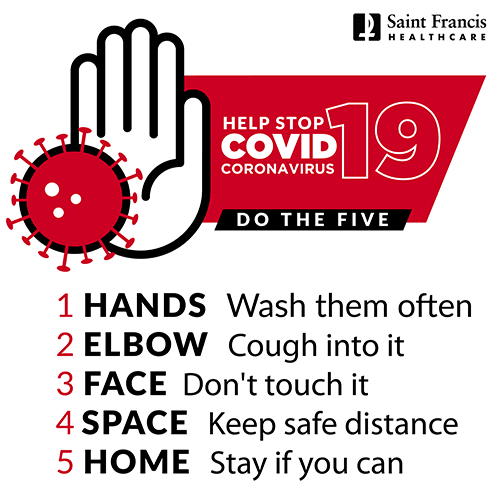 The Cape Girardeau County Public Health Center has recommended that residents adhere to the the following guidelines:
Limit your public exposure. Go to work, conduct essential business, and go home.
Limit gatherings to groups of 10 or fewer.
Implement personal protective measures, such as staying home when ill and washing hands frequently.
Avoid non-essential travel.
Actively engage in social distancing by staying at least 6 feet from others.
In addition to maintaining a distance of at least 6 feet from others, the CDC also recommends wearing a cloth mask or other face covering while in public. Surgical masks or N95 respirators should be reserved for healthcare professionals.
Saint Francis recommends taking the following additional precautions:
Avoid personal contact (shaking hands, etc.)
Do not share drinks
When not able to wash hands, use a hand sanitizer that contains alcohol
Avoid touching your face with unwashed hands
Stay home if you have a respiratory illness. If you suspect a COVID-19 infection, consult our online COVID-19 questionnaire for further guidance.
COVID19-stop-the-spread-of-germs

Send Notes of Encouragement
Show your support and gratitude to those caring for patients on the Saint Francis COVID Care Unit
Leave an uplifting message for the staff and patients:
Why Do You Wear a Mask?
Download, print, fill out & take a selfie with our "I wear a mask for…" template then share your photo on social media with hashtag #WearAMask!