A Message from Our President and CEO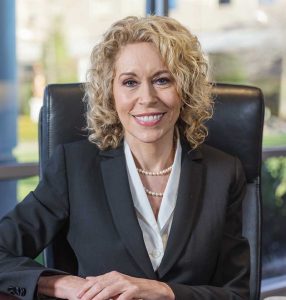 David McCullough, the famous author, said, "History is who we are and why we are the way we are." As you read our accomplishments in 2019, I would like to take a moment to reflect on how our rich Franciscan history guides who we are and what we are called to do.
The year 1875 seems so very long ago. The Civil War recently ended, and Cape Girardeau began to flourish. The river, forestry and rich farmland provided sources of livelihood. As the community progressed, one thing was clearly missing — a hospital to serve the people of the region.
Father Joseph Schmidt, pastor of St. Mary's Parish, invited three Franciscan Sisters to make a home in Cape Girardeau and start a hospital. While we do not know exactly what he wrote, his letter must have been convincing. Three weeks later, the Franciscan Sisters arrived.
These brave sisters took a leap of faith, embarking on a journey to Cape Girardeau and founding the first Saint Francis Hospital. Their choice to say yes and answer the call to serve changed not only their lives but transformed all of ours. While they faced hardships and scarce resources, their never-ending work was meaningful and rewarding. The community played an integral part in the growth and success of the hospital in those early years. How proud our founding sisters would be to see the fruits of their labor and the Franciscan Ministry they built 145 years ago!
Today, there are fewer sisters throughout the Healthcare System, but the legacy of their good works remains. As you walk around the hospital, you see historic photos displayed as a reminder of who we are and from where we came. In our hospital and clinics, you see the San Damiano Cross. In our main lobby stands the Sacred Heart of Jesus statue and our Mission proudly displayed. These are visible reminders of our Mission and our heritage, representing how we are Called to Serve each and every person who walks through our doors with dignity and compassion.
Our calling extends outside the walls of the Medical Center and Medical Partner clinics. In 2019, we provided free cancer screenings, fed hungry children, organized drives for coats, school supplies, diapers and food, partnered with local organizations to alleviate homelessness and provided a tremendous amount of charity care for our community.
Enjoy this reflection of 2019 – a year of success, accomplishment and appreciation of our humble beginnings. I thank the Saint Francis Family for everything done to serve our patients, our physicians, our colleagues, our community and each other.
As always, I look forward to the good yet to be for Saint Francis Healthcare System!

2019 Annual Report: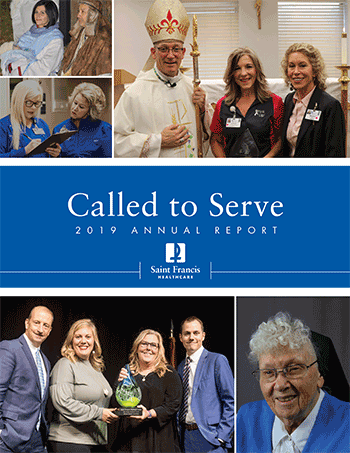 Past Annual Reports: