Each year, we recognize a colleague-nominated member of the Saint Francis Family for living the Mission of Saint Francis Healthcare System: To provide a ministry of healing, wellness, quality and love as inspired by our faith in Jesus Christ.
The Sister Jane Mission Award is presented at the conclusion of the Feast of Saint Francis Mass in October. Nominees should embody our Mission as well as our values:
Compassion: Seeing others through Christ's eyes.
Stewardship: Appropriately managing all resources.
Joy: Serving with a happy heart in reflection of Christ's love.
Integrity: Doing what is right and just.
Faith: Trusting in something unseen.
Hope: What we give to those in despair.
Excellence: Constantly striving for best-in-nation performance.
Dignity: Respecting human life from beginning to end.
Eligibility
Any full- or part-time colleague who has been employed by Saint Francis Healthcare System for two years or more is eligible to receive the award. Excluded staff are executives (chiefs and vice presidents) and previous Sister Jane Mission Award winners.
Nominations
Any colleague may nominate any other eligible colleague in any department or practice/clinic who meets the award criteria (see Eligibility above). To nominate a colleague, use the nomination form below.
About Sister Jane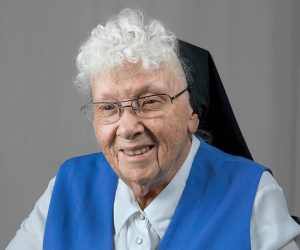 Saint Francis Healthcare System honors Sister Jane Kiefer for more than 40 years of service to our organization. She joined the Franciscan Sisters in Wheaton, Ill., in November 1948, providing faith-based healthcare in Wisconsin, Iowa and Missouri. She feels it is important to lead by example, which she did by following her Catholic faith and being a pioneer in her field.
In 1976, she implemented the Medical Social Work Program at Saint Francis. This type of program did not exist in the area at the time and was an extraordinary way to advocate for patients.
In 1985, Sister Jane transferred to Pastoral Care and served as a chaplain for 13 years. In 1997, She received the Baumstark Award from Saint Francis Auxiliary for her work as a chaplain and volunteer. This award recognizes volunteers who generously give time to Saint Francis patients.
After retiring in 1998, Sister Jane continued serving Saint Francis Medical Center as a volunteer. For years, she was on site every day.
On May 19, 2018, Sister Jane celebrated 70 years as a Franciscan Sister. Saint Francis hosted a 70th Jubilee Celebration in her honor. That same year, Saint Francis created an award in her honor — Sister Jane Mission Award — which is presented annually to a colleague who epitomizes the Mission and values of Saint Francis.
In 2019, Sister Jane was nominated for the Women of Achievement Award from Zonta Club of Cape Girardeau.
Sister Jane retired to Wheaton Franciscan Sisters Motherhouse in Wheaton, Ill. However, the legacy of her endless work and service to Saint Francis continues today.
Award Recipients
2022: Lisa King, CNA
2021: Paul Bowers
2020: Gretchen Price, DO
2019: Pam Kimbel
2018: Charity Worley
Submit Your Nomination
Sorry, the nomination deadline for this year's award has passed.