Holiday Hours
Special holiday hours for Saint Francis Clinic Jackson:
Sunday, December 24: Open at normal time, closed at 3 pm
Monday, December 25: Closed
Sunday, December 31: Open normal hours
Monday, January 1: Closed
If you are experiencing a medical emergency, please proceed immedidately to the nearest Emergency Room.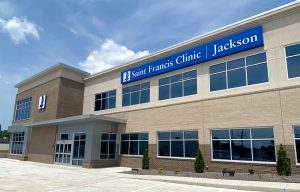 Primary Care and Urgent Care for Southeast Missouri
Saint Francis Clinic Jackson provides primary and urgent care in southeast Missouri for adults and children of all ages. We promote patient health through regular checkups, screenings, patient education and preventive care. When patients become ill or develop health conditions, Saint Francis Clinic Jackson's physicians have the breadth of experience in family medicine to discover the underlying issues and offer patients the insights necessary to make informed decisions. When appropriate, Saint Francis Clinic Jackson connects patients with specialists at Saint Francis Medical Center and coordinates their care.
Saint Francis Clinic Jackson treats the following ailments and more:
Bronchitis
Bruises or sprains
Colds or flu
Cuts or lacerations
Ear infections
Hives or rashes
Sore or strep throat
Vomiting or diarrhea
We also offer the following on-site services:
Counseling
Imaging
Laboratory
Walk-in urgent care services
For your convenience, virtual visits and same-day appointments are available. Call 573-243-8408 today!
Hours
| | | | |
| --- | --- | --- | --- |
| Sunday: | 8 am | - | 5 pm |
| Monday: | 8 am | - | 7 pm |
| Tuesday: | 8 am | - | 7 pm |
| Wednesday: | 8 am | - | 7 pm |
| Thursday: | 8 am | - | 7 pm |
| Friday: | 8 am | - | 7 pm |
| Saturday: | 8 am | - | 5 pm |
Schedule an Appointment
For your convenience, patients can now schedule an in-person appointment with providers online 24/7 from the convenience of your home or office using the tool below. Online scheduling of virtual visits is not available at this time. If you prefer to see a specific provider, click on the provider's name below.
Reviews for Saint Francis Clinic Jackson
---
I was sick for 3 weeks, went to two other doctors and could not figure out what was wrong. Went there and figured out what was wrong immediately. Dr. Crystal Wekenbog was wonderful and advocated for taking vitamins. She was so thorough and talked us through everything. Her nurse, Asriel was wonderful as well and got us in quickly!
I love this cl clinic for nurses are wonderful the doctors are great
I've had excellent and quick experiences at this location for my entire family. Also providers that go above and beyond. I appreciate the help we've received and we will continue to return to this location.
I have been into this clinic many times for myself and my kids. I honestly wouldn't take them anywhere else when they need to be seen quickly and there's no time for an appointment. They are so kind, I'm always seen quickly, and they always take my concerns seriously. Even the front desk staff will treat you great!
My experience with St. Francis Clinic was AMAZING!! Angie was so sweet when we checked in, and Kit and Amy were SO attentive, and nonjudgmental. I would highly recommend this place to anyone.
Dr. Eichhorn is absolutely amazing!! She's patient, listens to everything you have to say and approaches your issues with easy to understand explanations and directions. She's a rare find in this day of always feeling rushed and unheard.
New building is gorgeous. I've always received great care from the nurses and physicians here. For afternoon appointments, I've never waited more than 20 minutes to be seen. For morning appointments, I arrive early and I'm usually taken back before my scheduled appointment time.
I was just traveling through when I started to feel ill. I hate going anywhere new because you don't know how the people are going to be. Everyone was very friendly from the receptionist to the nurse and the dr. I got right in and was back on the road to my destination. I'm so glad that I went here as I do have under lying conditions and I needed to get medicine Thank you all so much!!
Everyone there has been absolutely amazing every time I've seen them and are awesome with my kids too!