Through their affiliation with Saint Francis Healthcare System, our experienced, dedicated pediatric team has the resources to provide the highest quality care to infants, children and young adults. We are called to serve the children in our communities.
These providers play a very important role in the overall health and well-being of children of all ages. They are available to treat any immediate health problems that may arise.
Services our Providers Offer
Diagnoses and prescriptions
Immunizations
Nutrition and fitness information
Asthma management
Sick/Well visits
Fractures and lacerations
Wellness and sports physicals
Illness and injury prevention
Treatment of minor injuries
Care of acutely ill infants and children
For your convenience, virtual visits and same-day appointments are available. Call today!
Keep Your Child Healthy with Regular Exams
The best way to keep your children healthy and prevent medical issues before they start is to ensure they are receiving routine checks. We recommend that children receive full exams along with any necessary vaccinations at 2 weeks, 2 months, 4 months, 6 months, 9 months, 12 months, 15 months, and at age 2. After the age of 2, children should continue to receive exams on a yearly basis to ensure optimal health and wellness.
Regular Exams Include:
Vision screening
Urine screening
Anemia screening
Medical exams
Pediatric physicals
Height measurements
Weight measurements
Routine vaccinations
Assessment of developmental milestones
Questions about diet
Age specific education
Choosing to Skip Vaccinations Could Put Your Child at Risk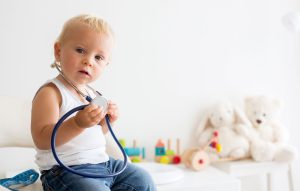 Published information and research concludes that vaccinations help save millions of lives every year. Skipping them is dangerous! The science behind vaccinations is simple and reliable. They provide very little risk and enormous benefits for your child. Still have concerns? Our experienced staff is always happy to answer any questions and provide additional information regarding this matter.
Recommended Pediatric Vaccinations
IPV – Polio
Tetanus shots
Haemophilus Influenza Type B
MMR – Measles, Mumps, Rubella
Chicken Pox
Hepatitis A and B
Rotavirus vaccine
Prevnar vaccine
Gardisil vaccine
Meningitis vaccine
Flu shots
Preparing for Your First Visit
It is our primary goal to provide every patient under our care with personal service and the detailed attention they deserve. Ensure your transition to working with us is as easy and seamless as possible when you follow the tips below.
What To Bring With You
Insurance card(s) – We are in network with:

Anthem: Blue Access, Blue Perferred, Traditional, Pathway, and Pathway X
Healthlink: PPO, and Work Comp (NOT HMO)
UnitedHealthcare: UHC Products, Choice, Select, Golden Rule, UMR, Navigate, Core, Compass, Charter, Medicare Advantage/Optum Behavior Health, Medicaid
Aetna-Coventry: PPO Networks: GHP PPO Network, GHP PPO Select Network, Coventry/National Accounts Network, TPA, First Health, Self Funded, CMR/ASO/TPA
Humana: Commercial Medicare
Multiplan: All Networks
MHBF: All
Cigna: Greatwest
Missouri Care: Medicaid
Home State Health: Medicaid
Evolutions Prime Missouri

Complete immunization records
Medical records from your previous pediatrician
Letter of medical consent (if someone other than the parent is bringing your child)