Based in Cape Girardeau, Missouri, Saint Francis Healthcare System offers services 24 hours a day, seven days a week to more than 715,000 people in southeast Missouri and in a five-state region through Saint Francis Medical Center, a 306-bed nonprofit tertiary care institution, and Saint Francis Health Development Services Corporation, a for-profit healthcare services company.
The Catholic-based Saint Francis Healthcare System has evolved in the 21st century from a local community medical center to the regional tertiary healthcare leader in the five-state region due to the tremendous efforts of a visionary administrative team, talented group of managers, and exceptional work force, all focused on providing the highest quality of care to patients and support to family members.
Hospital Compare Overall Ratings

The Centers for Medicare and Medicaid Services and key stakeholders developed a methodology that calculates a star rating in order to easily compare overall hospital quality. This rating takes into account both reimbursements received and quality of care provided. Saint Francis Healthcare System is proud to report an improvement in our rating from three to four stars from 2018 to 2019. Fewer than ten percent of hospitals in the nation receive a five-star rating.
Expanding Access to Quality Healthcare
Saint Francis providers have a major presence throughout our region, providing nationally recognized care. We remain committed to delivering the accessible, quality care members of our community have known and trusted for more than 140 years.
2019 At A Glance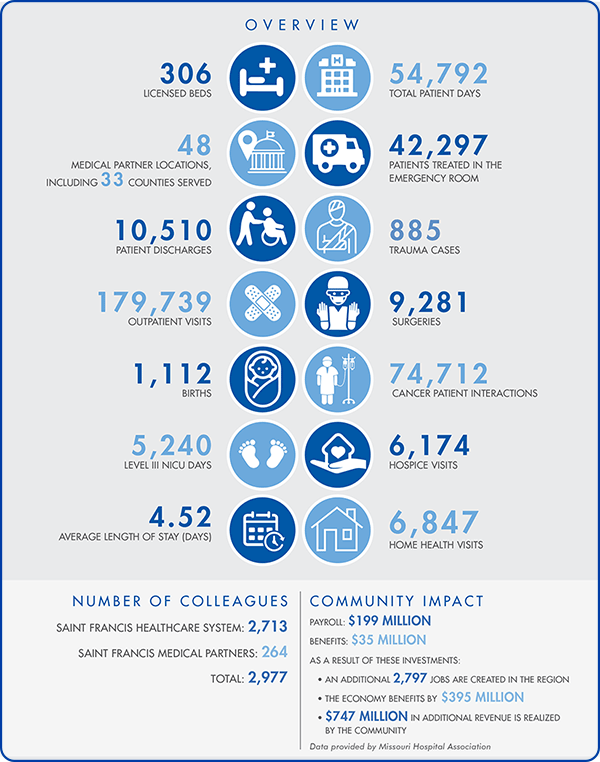 2018-2019 Financial Performance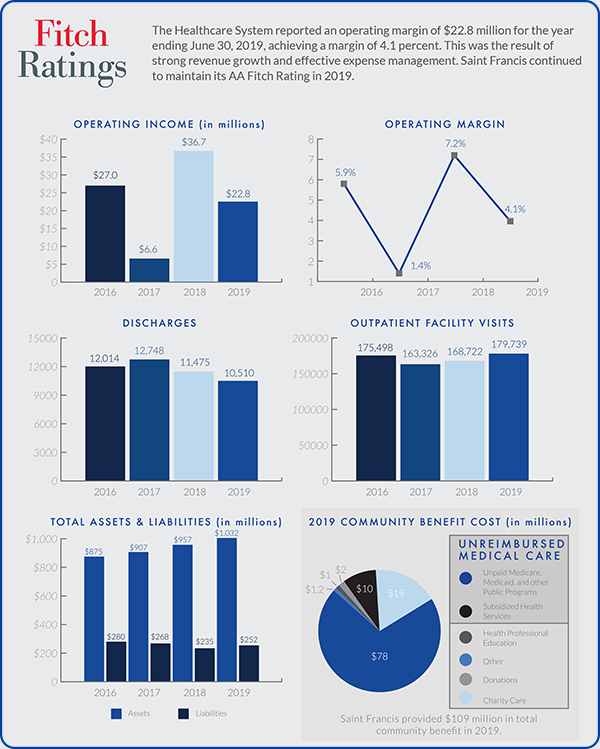 Saint Francis Health Development Services Corporation
As the for-profit arm of Saint Francis Healthcare System, Saint Francis Health Development Services Corporation includes these entities:
Black River Ambulatory Surgery Center
Black River Ambulatory Surgery Center offers expansive surgical specialties, the latest technology, four operating rooms, two endoscopy suites, excellent care practices, and highly-skilled surgeons and staff. Services include:
General Surgery
GYN Surgery
Endoscopy
Ophthalmology
Podiatry (Foot & Ankle Surgery)
American Family Care
All AFC clinics are designed, equipped, and staffed to provide accessible primary care, urgent care, minor emergency treatment, and occupational medicine. We are considered pioneers in non-emergency room urgent care, with a majority of our patients coming in, receiving care, and returning home in one hour's time on average.
Landmark Hospital
Saint Francis Healthcare System has entered into a joint venture with Landmark Holdings of Missouri, LLC to bring long-term acute care to the region's residents. Accredited by The Joint Commission, Landmark Hospital is a 30-bed, fully licensed critical care hospital caring for patients with catastrophic and/or chronic medically complex conditions requiring a hospital stay of 25 days or longer. Landmark Hospital is the only facility of its kind between Memphis and St. Louis.
Landmark Hospital's specialized programs use treatment protocols designed to meet each patient's complex medical needs. Programming includes:
Medically Complex Program–for patients requiring multidisciplinary medical services and recovery from a surgical procedure or traumatic event
Pulmonary/Ventilator-Weaning Program–for patients requiring medical ventilation or who are recovering from other pulmonary conditions
Complex Wound Care Program–for patients recovering from serious wound complications and extensive surgery or requiring treatment for pressure ulcers
On-Site Dialysis Program–for patients with acute or chronic kidney disease
Infectious Disease Program–for patients requiring long-term treatment for infections
Low-Tolerance Rehabilitation Program
Landmark Hospital complies with all state licensure requirements and Medicare Conditions of Participation regulations.
Physicians Alliance Surgery Center
Saint Francis Healthcare System has a joint partnership with the Physicians Alliance Surgery Center, giving patients access to another expert physician team through Saint Francis Medical Center. The physician-owned surgery center, located at 3241 Percy Drive, provides ambulatory surgical services in the following specialties:
Ear, Nose, and Throat
General Surgery
Gynecology
Ophthalmology
Orthopaedics
Podiatry
Retinal Specialties