The precious moments we share with our patients and their families are steps along a much larger journey – a journey of faith, of caring, of healing, of hope, of life. At any given time, every stage of life and every type of care is taking place throughout Saint Francis Healthcare System. Usually, these moments go unseen by the public, unfolding behind closed doors and passing quietly. Saint Francis invites you to take a closer look, to see the power of people and witness the wonder of the Holy Spirit at work day to day. Ephesians 4:1 says, "Now, walk in a manner worthy of your calling…" From a single moment to the journey of a lifetime, Saint Francis is Called to Serve you.
Neurology
Our Neurology department specializes in treating the full range of neurological conditions, from head injury to genetic disorders and neuromuscular diseases. When your central nervous system needs support, our Neurology department is on the leading edge of expertise and technology.
The Neurosciences Institute at Saint Francis Healthcare System is the region's leader in diagnosing, treating and managing disorders, injuries and illnesses of the brain, spine and nerves. Our highly skilled specialists provide leading-edge diagnostic imaging and advanced medical, surgical and rehabilitative technologies and treatment options.
Emergency and Trauma
No one expects an emergency, except us. Saint Francis is always ready to help you handle life's surprises.
Saint Francis Medical Center's Emergency and Trauma Center is the only state-designated Level III Emergency and Trauma Center in southeast Missouri. This state-of-the-art facility is available 24/7/365 to provide care for those suffering from a life- or limb-threatening medical condition, severe abdominal pain or symptoms of a heart attack, stroke or trauma.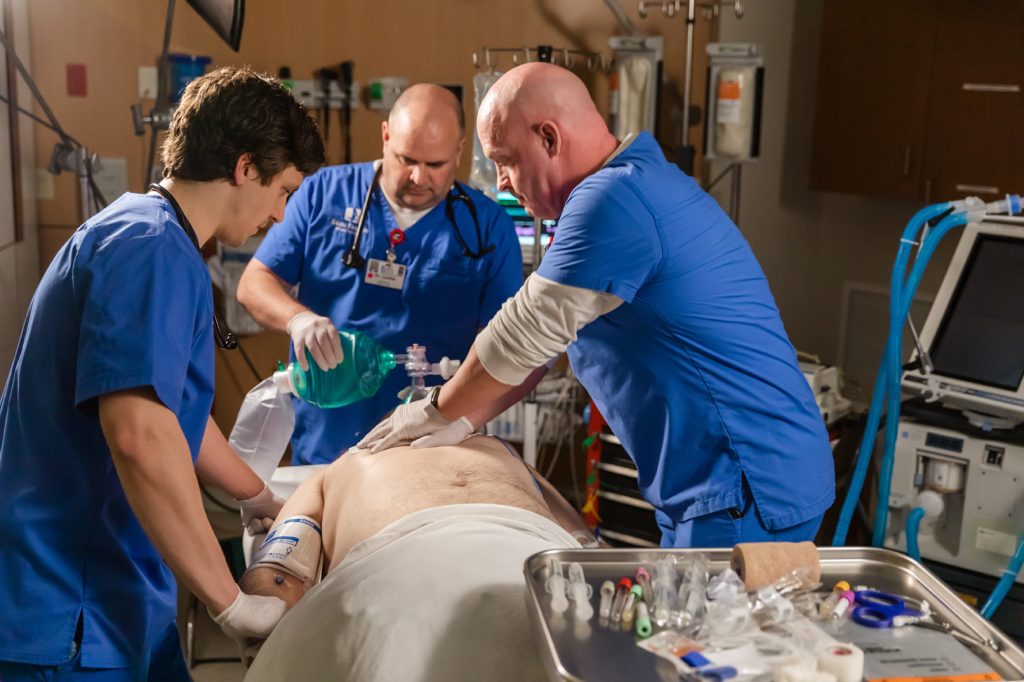 Labor and Delivery
The moments leading up to, during and immediately following birth are foundational to the lifetime health of your baby.
The Saint Francis Family BirthPlace is staffed by skilled experts who work as a team to satisfy the needs of mothers, babies and families. Our highly experienced staff includes obstetricians/gynecologists, midwives, neonatologists, perinatologists and other specialists who are familiar with the latest technologies and techniques for labor and delivery.
NICU
Early care for our most vulnerable and helpless patients is crucial to future development and success.
The region's first Level III Neonatal Intensive Care Unit, Saint Francis provides the most sophisticated care for premature or critically ill newborns. Our board-certified, fellowship-trained neonatologists offer the reassurance of specialized care to families should that need arise. We help you prepare to care for and bond with your baby, and focus on your baby's growth, nutrition and development as you prepare to start your life together at home.
Heart and Vascular Health
Your heart health is critical to your wellbeing at any age. That is why our experienced team at Saint Francis Healthcare System is committed to providing expert diagnosis, treatment and care for a range of cardiac and vascular conditions to improve your quality of life.
As a leader in cardiac innovations, our Heart Hospital offers advanced diagnostics, leading-edge cardiac intervention and surgeries, emergency care, cardiac rehabilitation, risk assessments for heart disease, vascular disease screenings as well as heart education. Our cardiac team works together to develop the right treatment plan for you.
Our care does not end with your initial treatment or surgery. Our Cardiac Rehab program optimizes recovery after a heart procedure. Supervised by specially trained Cardiac Rehab nurses, sessions include exercise and education about nutrition, lifestyle changes and heart medications. This 12-week outpatient program is personalized to meet your individual needs.