What Is Cardiac Rehabilitation?
Cardiac Rehab is a medically monitored exercise and lifestyle education program that assures optimal recovery after a heart procedure. Sessions are supervised by specially trained Cardiac Rehab nurses and include exercise and education about nutrition, lifestyle changes and heart medications. Cardiac Rehab is ordered by the patient's doctor to ensure lasting recovery and long-term cardiac health. Cardiac rehab begins while patients are still in the hospital, and continues as a 12-week outpatient program. The outpatient program is personalized to meet individual patient needs and assures optimal recovery. It is supervised by Cardiac Rehab nurses in a safe environment.
Cardiac Rehabilitation in Cape Girardeau
Saint Francis Medical Center's Heart Hospital offers a cardiac rehabilitation program that helps patients who have experienced stent implementation, heart attack, heart failure or heart surgeries, such as coronary bypass and valve repair or replacement. Our Cardiac Rehab program was one of the first programs in Missouri certified by the American Association of Cardiovascular and Pulmonary Rehabilitation (AACVPR). Certification is awarded after programs demonstrate quality care that meets national standards.
Cardiac Rehab in Cape Girardeau does the following:
Limits the physiological and psychological effects of heart disease
Reduces the risk of hospitalization or exacerbation of symptoms
Modifies and control certain risk factors with education, exercise and behavior change
Stabilizes and decrease cardiac symptoms
Enhances quality of life through cardiac rehabilitation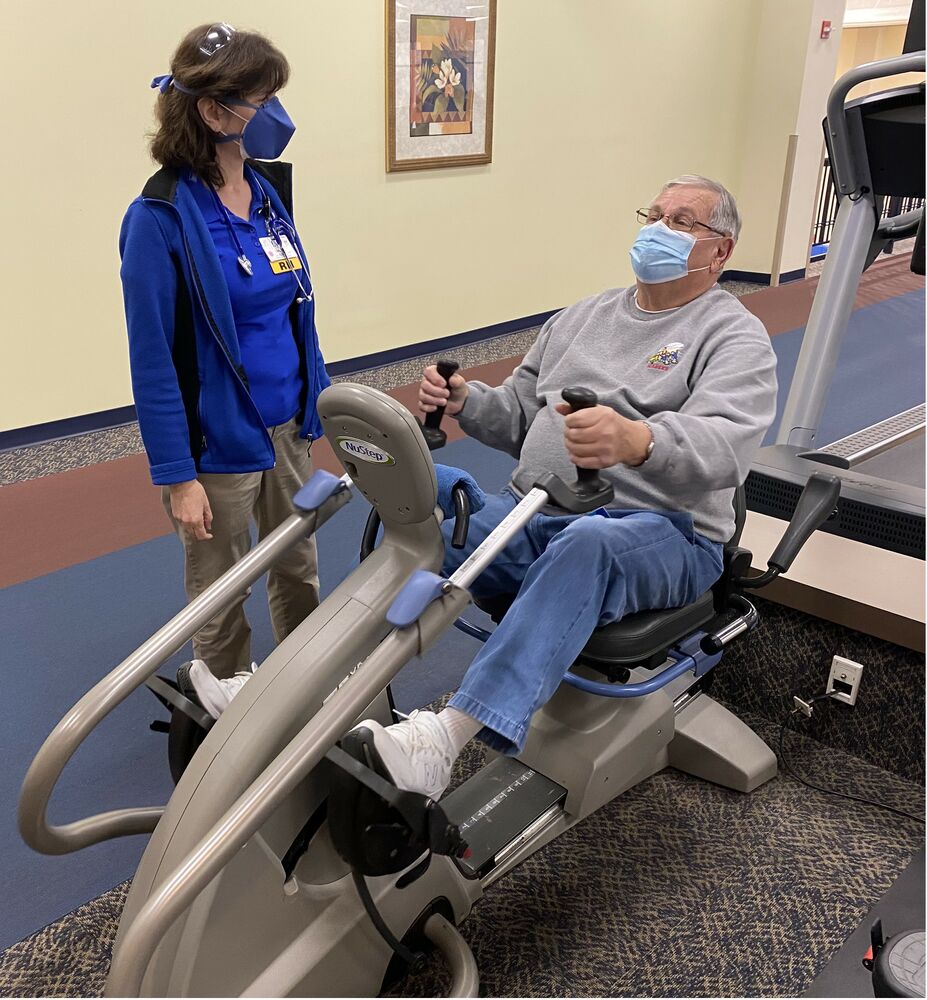 Preparing for Cardiac Rehab
Upon discharge after cardiac treatment or surgery, Cardiac Rehab patients should:
Follow discharge instructions
Call their insurance company to verify that this program will be covered.
For the first session, patients should bring:
Comfortable walking shoes
A list of current medications
What to Expect at the First Visit to Cardiac Rehab
The initial visit to Cardiac Rehab at Saint Francis Medical Center includes:
A one-on-one consultation with a Cardiac Rehab nurse to review medical history, cardiac risk factors, and current cardiac health needs
Participation in monitored exercises (such as a six-minute walk) while wearing a portable heart monitor
A blood pressure screening before and after exercise
To learn more about the Cardiac Rehab program, call 573-331-5255.