Called to Serve – A Roof for Rae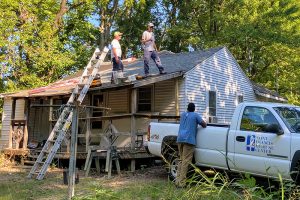 When a tree fell through Rae Shaw-Johnson's home during a summer storm, she did not know where to turn.
Her friend, Carla Young, knew who to call and connected her with Jimmy Wilferth, Vice President of Foundation, Marketing and Facilities at Saint Francis Healthcare System.
While still raining, Jimmy and a couple of staff members immediately went to tarp the damaged home in south Cape. Over the next few weeks, Saint Francis Foundation, with help from Facilities colleagues, worked diligently to clean up the downed tree and replace the roof. Rae, Carla and other neighbors participated in the cleanup and restoration. It was truly an all-hands-on-deck approach with prayers and meals shared amongst all involved.
Through the process, Rae and Carla became quick friends of Saint Francis Foundation and wanted the opportunity to give back through our Volunteer Program. You can now see their cheerful smiles and hear their laughter as they greet guests at the Entrance 1 Volunteer Desk at Saint Francis Medical Center.
For volunteer opportunities, to donate or learn more about Saint Francis Foundation, call us at 573-331-5133 or email foundation@sfmc.net.