Asad Successfully Performs First Ion Robotic Bronchoscopy at Saint Francis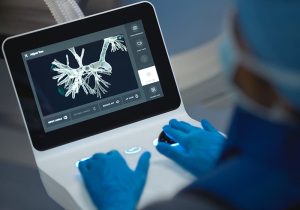 In a groundbreaking medical achievement, Saint Francis Healthcare System is proud to announce the successful completion of robotic bronchoscopy utilizing the Ion endoluminal system. The first two procedures were completed on Monday, August 21, by Hussein Asad, MD, interventional pulmonologist at Cape Pulmonology and Sleep Medicine, a Saint Francis Medical Partner.
"This marks a significant advancement in minimally invasive medical techniques and underscores Saint Francis's commitment to providing state-of-the-art healthcare to its patients and community," Asad shared.
Lung cancer is the leading cause of cancer death for both men and women in the United States. According to the American Lung Association, only 16 percent of lung cancer cases are diagnosed at an early stage.
Utilizing the Ion system, Saint Francis is able to offer minimally invasive biopsies for the detection of lung cancer. The flexible robotic end reaches far into the peripheral lung, where more than 70 percent of nodules exist. By navigating to difficult-to-reach areas of the lung, providers can better diagnose lung cancer at its earliest, most treatable stage.
"The successful completion of the first robotic bronchoscopy at Saint Francis Healthcare System represents a remarkable leap forward in our ability to provide the best possible care for our patients," said Justin Paletta, MBA, Director of Operations (Medical) for Saint Francis. "By harnessing the power of robotics, we can offer less invasive procedures, shorter recovery times and, ultimately, better outcomes for our patients."
Yearly low-dose CT screenings are recommended for individuals aged 50 to 80 who currently smoke or have quit in the past 15 years and have at least a 20-pack-year smoking history. If a low-dose CT detects a lung nodule, a biopsy follows to determine if the nodule is benign (noncancerous) or malignant (cancerous).
To schedule a low-dose CT screening, please speak to your primary care provider or call 572-331-5111. For more information, visit sfmc.net/pulmonology.
About Intuitive Surgical, Inc.
Intuitive (Nasdaq: ISRG), headquartered in Sunnyvale, Calif., is a global technology leader in minimally invasive care and a pioneer of robotic-assisted surgery. At Intuitive, our mission statement is we believe that minimally invasive care is life-enhancing care. Through ingenuity and intelligent technology, we expand the potential of physicians to heal without constraints.
Intuitive brings more than two decades of leadership in robotic-assisted surgical technology and solutions to its offerings, and develops, manufactures and markets the da Vinci surgical system and the Ion endoluminal system.