Linda Ehlers Retires After 42 Years as Nurse at Saint Francis Healthcare System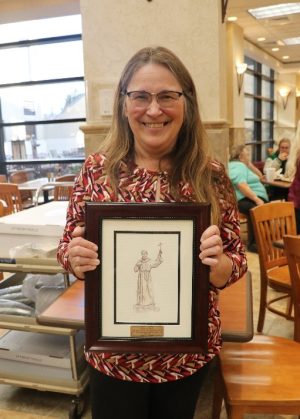 Linda Ehlers has been serving patients at Saint Francis Healthcare System for 42 years as a Licensed Practical Nurse. She retired in December 2019.
She began her career at Saint Francis in September 1977 when she was 20 years old as a Licensed Practical Nurse on the Medical Floor. Over the years, she worked in Gastrointestinal and Progressive Care. Three years ago, she joined Cape Medical Oncology.
Linda says what she has enjoyed most in her career is interacting with patients. She says the Providers she has worked with through the years have always shown respect. She has also enjoyed watching her colleague's children grow up.
One favorite memory includes when she was in town running errands and a former patient flagged her down to thank her for the care he received from her. Her proudest accomplishment is adapting to a new computer system when she accepted her position three years ago at Cape Medical Oncology.
Linda says she will miss her colleagues and patients the most after retiring. Her plans during retirement include spending time with her husband who recently retired in October. They have season tickets to the St. Louis Cardinals. They also enjoying watching the St. Louis Blues. Linda plans to visit her sisters, spend time with her three grown children, and volunteer with the bereavement committee at St. Paul Lutheran Church in Jackson. Congratulations on your retirement, Linda!