Saint Francis Honors Sister Jane Kiefer for Years of Service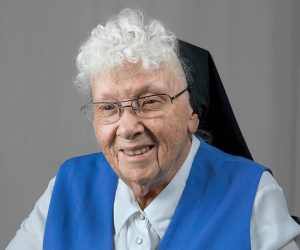 Saint Francis Healthcare System honors Sister Jane Kiefer for her more than 40 years of service to the organization. She has retired to the Wheaton Franciscan Sisters Motherhouse in Wheaton, Illinois.
Sister Jane joined the Franciscan Sisters in Wheaton, Illinois, in November 1948, and worked in Catholic healthcare in Wisconsin, Iowa and Missouri. In 1976, she implemented the medical social work program at Saint Francis Medical Center in Cape Girardeau. At the time, this type of program did not exist in the area and was an extraordinary way to advocate for patients. In addition, Sister Jane has always felt that it was most important to lead by example which she has done by following the Catholic faith.
In 1985, she transferred to Pastoral Care and served as a chaplain for 13 years. During this time, she became the sole religious sister remaining at Saint Francis. After retiring in 1998, she continued her service at the Medical Center as a volunteer. For years she was onsite every single day.
Sister Jane received the Baumstark award in 1997 from the Saint Francis Auxiliary for her work as a chaplain and volunteer. This award is presented to recognize a Saint Francis volunteer who gives his or her time unceasingly and generously to Saint Francis patients.
On May 19, 2018, Sister Jane celebrated 70 years as a Franciscan Sister and Saint Francis hosted her 70th Jubilee Celebration. Sister Jane was nominated for the 2019 Women of Achievement Award from the Zonta Club of Cape Girardeau. Saint Francis Healthcare System also created the Sister Jane Award in her honor, which is given annually to a colleague/physician who epitomizes the mission and ministry of Saint Francis. Sister Jane continues to leave a legacy through her work at Saint Francis.