Smith to Take on New Role as Director of Acute Care Operations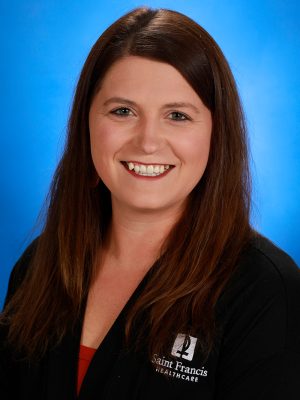 Saint Francis Healthcare System is pleased to recognize Krystle Smith, RN, BSN, in her promotion to Director of Acute Care Operations, effective November 2022.
Smith began her career at Saint Francis in 2013, starting as a Registered Nurse and transitioning to Charge Nurse, Performance Improvement Specialist and most recently Manager of Patient Care Resources.
In her new role, Smith will oversee the strategic planning, organizing, implementing and administrative management of Hospitalist, Emergency Department and Intensivist providers.
Debby Sprandel, RN, BSN, MSN, MBA-HA, Chief Nursing Officer, said of Smith, "Krystle has been invaluable with coordination of patient placement and staffing support during COVID surges; coordination of our staffing float pool, placement and oversight of extern rotations; development and implementation of Unlicensed Assistance Personnel (UAP) training program and daily oversight for streamlined patient placement and staff resource allocation. We are excited to see her transition into the new Director role and assist our providers and the team on increased attention to streamlined processes and efficiencies for our patients."