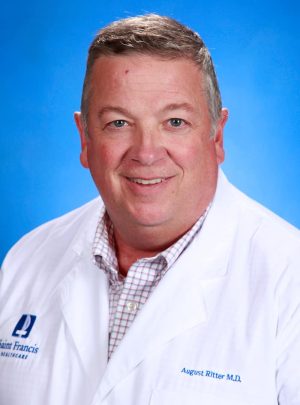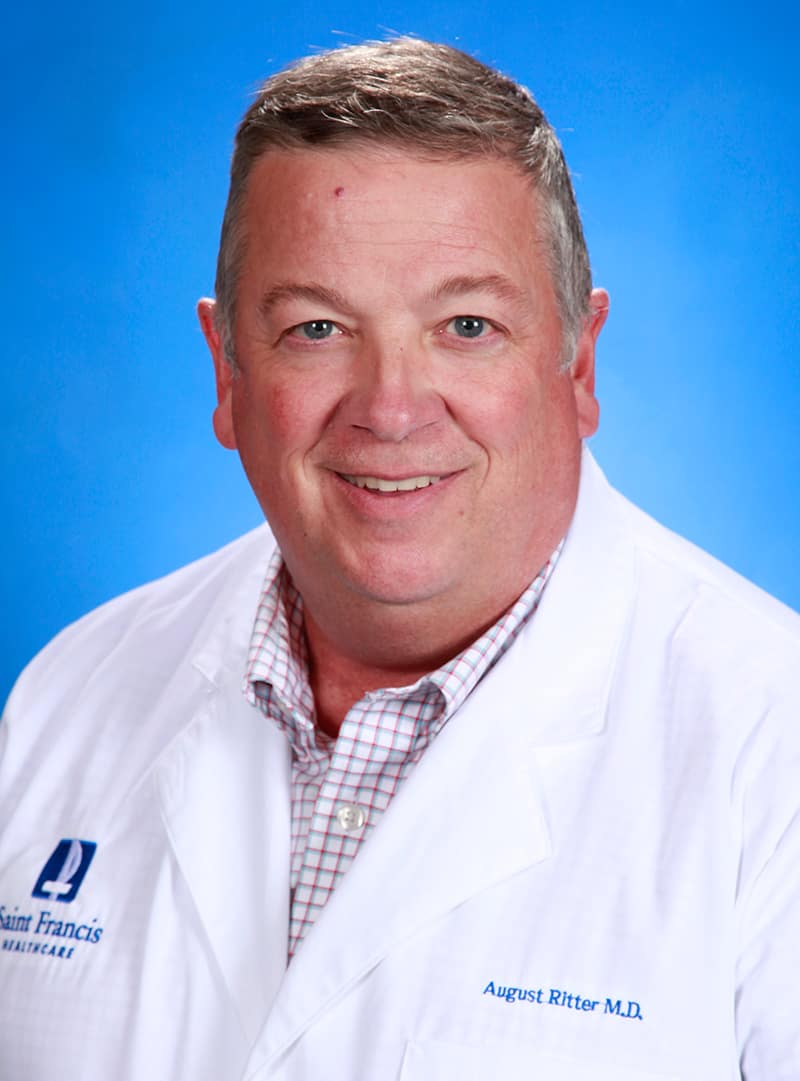 Accepting New Patients!
Specialty:

48 Doctors Park
Cape Girardeau, MO 63703
573-335-8257
Get Directions
Download provider contact data (.vcf)
Review this provider on
Dr. Ritter is a Southeast Missouri and Cape Girardeau native. He is married with 6 children and 7 grandchildren. He enjoys horses (and playing polo), training herding dogs, sailing, hunting and fishing. Ritter spent 11 years in the US Army Reserves as part of the 21st General Hospital based in St. Louis, MO. He is a third-generation physician in the Advanced Orthopedic Specialists practice, which his grandfather started in 1930. He loves his work and the opportunity to care for this wonderful community.
Helping patients return to a comfortable and active life - that's what I enjoy about being an orthopedic surgeon.
Board Certification
American Board of Orthopaedic Surgery
Medical Education
1986 - University of Missouri - Kansas City School of Medicine, Kansas City, MO
Internship
1987 - Spectrum Health Systems, Grand Rapids, MI
Residency
1993 - St. Louis University Hospital, St. Louis, MO
Fellowship
1989 - St. Louis University Hospital, St. Louis, MO in Orthopedic Immunology (developed monoclonal antibodies to Osteosarcoma and other tumors)
Care Philosophy
"I believe each patient needs to be thoroughly evaluated and then have a treatment plan developed with them that meets their expectation of excellent care."
Clinical Interests
Treatment of Arthritis
Fracture Care
Disorders of the Musculoskeletal System
Quality Management for our Orthopedic Program
Procedures and Treatments Offered / Performed
Adult reconstruction
Hip replacement
Knee replacement
Rotator cuff repair
Fracture repair
Medical and surgical treatment of peripheral nerve disorders
Joint injection
Personal Details
"I am married to Laura (Felter) Ritter. We have 6 children between us and 7 grandchildren. We have 2 dogs, 4 horses and a handful of sheep, chickens and geese."
Other Experience
Dr. Ritter is retired from the US Army Reserve after 11 years (1990-2001). He and his wife have done mission work with their church in Mexico. Mrs. Ritter has also been to Haiti over 10 times.