The Future of Quality and Patient Safety
Delivering the highest-quality care is at the core of everything we do. Saint Francis Healthcare System is taking that focus to the next level – with an array of initiatives and clinical partnerships geared toward improving the patient experience – to stay the premier healthcare delivery network in our five-state region.
Key Quality and Safety Measures
Our comprehensive quality initiatives include:
A new Patient Tower featuring private patient rooms.
Locked medication drawers to promote safer medication administration.
The new Epic electronic medical records system for united provider communication to enhance individualized patient care.
Recognition when departments achieve exceptional quality and patient safety results.
Exclusive local affiliation with the Cleveland Clinic Heart and Vascular Institute to improve the scope and delivery of patient safety and quality for the region.
Ongoing relationships with skilled nursing facilities in the area to decrease hospital readmissions and improve the transition of patient care.
Stroke Center accreditation by The Joint Commission, the nation's leading accreditation organization committed to improving safety and quality in healthcare, with its stroke care Gold Seal of Approval.
Recognition
This dedication to quality and safety initiatives continues to pay off. In February 2017, Saint Francis was named one of eight hospitals in Missouri, and the only in Cape Girardeau county, that received top scores for positive nurse communication with patients, according to the Centers for Medicare and Medicaid Services (CMS). These types of quality and safety measures are helping Saint Francis provide an exceptional patient experience and excellent patient outcomes.
Cancer Institute
The Cancer Institute offers comprehensive oncology services for the treatment of many types of cancer, providing the highest-quality, local cancer care.
Our Team
Saint Francis has a dedicated team of 23 physicians. Our oncologists and surgeons completed a rigorous evaluation process to elevate patient care.
All of our Infusion Center nurses are Oncology Certified Nurses (OCN) and members of the Oncology Nurse Society (ONS).
Accreditation and Outcomes
The following certifications, outcomes and outreach efforts further underscore the Cancer Institute's commitment to outstanding patient care and quality:
The American College of Surgeons Commission on Cancer (COC) through 2017
A recent (May 2016) breast self-concordance study yielded excellent results
The annual Medical Oncology safety assessment (December 2015) showed no concerns
Community Outreach and Patient Assistance
Our free community skin cancer screening: has checked more than 100 community members annually for the past 20 years
Free monthly lung cancer screenings to high-risk patients: has provided 217 exams since April 2013
Cancer Navigator Patient Program: has had 2,248 patient interactions in which 139 underinsured patients obtained financial assistance from external foundations and agencies to cover chemotherapy costs
Heart Hospital
Due to quality and safety advancements, the skilled cardiologists and cardiothoracic and vascular surgeons at Saint Francis Medical Center's Heart Hospital have achieved mortality rates 50 percent lower than national averages, often discharging patients within four days.
Our Team
In partnership with the Cleveland Clinic, the Heart Hospital offers advanced procedures and treatments for cardiovascular disease. From performing bypasses, inserting stents and pacemakers, replacing valves, and performing minimally-invasive Transcatheter Aortic Valve Replacement (TAVR), the experienced team at Saint Francis' Heart Hospital is proud to provide the full continuum of cardiology care. As the first in southeast Missouri to perform cardiac catheterization, the Heart Hospital offers:
50 private acute care beds
10 cardiac intensive care beds
Five cardiac catheterization labs, including:

An electrophysiology (EP) lab offers patients the opportunity to have their arrhythmia, or irregular heart beat, tested, diagnosed and treated
A hybrid endovascular lab – an integration of catheterization lab and OR – reduces risk by enabling an instant, same-room switch from a percutaneous procedure to surgery
In addition, the EP Lab is one of the first in the world to use the Philips EP Navigator System, a specialized imaging system.
Cleveland Clinic Affiliation
The American College of Cardiology/American Heart Association (ACC/AHA) guideline for PCI (also known as angioplasty to treat blocked heart arteries) patients who come to the emergency department with ST-elevated myocardial infarction (STEMI) was recently changed from 90 to 60 minutes.
Cleveland Clinic continues to decrease door-to-balloon time to reduce the risk of mortality and morbidity. The door-to-balloon interval starts with the patient's arrival in the emergency department, and ends when a catheter guidewire crosses the culprit lesion in the Cardiac Cath Lab. In 2014, the median time at Cleveland Clinic was 62 minutes.
Saint Francis' Improved Door-to-Balloon Time
In 2015, Saint Francis met the 90-minute, door-to-balloon goal 98 percent of the time, with an average time of 60 minutes
Year to date in 2016, Saint Francis has met the 60 minute door-to-balloon benchmark 100 percent of the time, with an average of 55.5 minutes
Accreditation and Outcomes
The Society of Cardiovascular Patient Care gave Saint Francis a full Cycle IV Chest Pain accreditation through 2018.
Saint Francis was the first heart hospital in southeast Missouri to receive this accreditation, and the only hospital in Cape Girardeau that is an accredited Chest Pain Center.
Five "Get with the Guidelines" Consecutive Performance Achievement Awards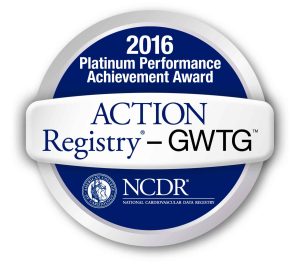 In 2016, the Heart Hospital received a platinum achievement award for demonstrating sustained achievement of performance measures in the treatment of acute myocardial infarction (heart attack) patients via ACTION Registry-GWTG and application of American College of Cardiology/American Heart Association Clinical Guideline Recommendations.

One of only 223 hospitals nationwide to receive the honor
Consistently followed ACTION Registry-GWTG Premier treatment guidelines for eight straight quarters, and performed at top standards level for performance measures
Transcatheter Aortic Valve Replacement (TAVR)
TAVR is a minimally invasive surgical procedure that repairs a damaged valve without removing it, offering quicker recovery times, less pain and a lifesaving option for high- or intermediate-risk patients.
Saint Francis is proud to provide patients with a Cleveland Clinic-instructed cardiac anesthesiologist trained in TAVR.
Saint Francis was the first in the region to perform TAVR, and has performed 40 to date, with zero in-hospital mortalities, stroke, acute kidney injury, vascular access site or device complications.
CoreValve Evolut™ R
Saint Francis was the first in the region to obtain permission to use Medtronic's CoreValve Evolut R, a new, repositionable valve that works effectively inside a failed stentless valve.
In September 2015, Saint Francis became the first Missouri hospital to perform a successful valve-in-valve TAVR on a patient.
Community Outreach and Patient Assistance
Heart to Heart Luncheons
Hosted by Saint Francis and supported by committee members from the community, this annual event raises awareness on a woman's unique risk factors for heart disease.
This spring luncheon features educational exhibits and free screenings prior to the keynote speaker and meal, plus door prizes and gifts for attendees.
Cardiac Outreach in Southeast Missouri
Cape Cardiology Group and Cape Thoracic and Cardiovascular Surgery provide cardiac outreach to patients in southeast Missouri, southern Illinois and western Kentucky, with direct access to the Heart Hospital's technology, research and support.
Cardiac outreach services are found in Perryville, Poplar Bluff, Sikeston, Dexter and Farmington.
Orthopedic Institute
As a trusted resource in the treatment of sports injuries, broken bones, torn ligaments/cartilage, total joint replacement and revision surgeries and other conditions, the Orthopedic Institute at Saint Francis takes patient safety and quality of care seriously with exceptional outcomes when compared to national benchmarks and dramatically reduced length-of-stay results for joint replacement patients.
Our Team
All of our orthopedic surgeons are certified by the American Board of Orthopedic Surgery, with an experienced support staff that provides the highest-quality care.
Accreditation and Outcomes
Stryker Hospital Reported Outcomes Benchmark
In the 2015 fiscal year, Saint Francis' average length of stay was 2.32. The average length of stay through the third quarter of 2016 was 2.06.
In the 2015 fiscal year, Saint Francis' readmission rate was 2.65, and the average readmission rate was 3.65 through March 2016.
U.S. News & World Report Recognizes Orthopedic Excellence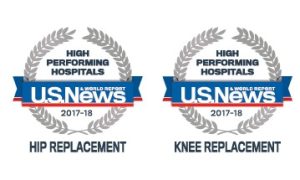 U.S. News & World Report named Saint Francis Medical Center a "High Performing Hospital" for both hip replacement and knee replacement, the only hospital in the region recognized with this designation. To earn this prestigious honor, Saint Francis' Center for Joint Replacement & Revision performed significantly higher than the national average in three key areas for both joint replacement procedures — and only 10-20 percent of approximately 3,600 evaluated hospitals reached this "High Performing" tier. These top orthopedic accolades are a testament to the program's talented and knowledgeable team, state-of-the-art facilities and best practices.
Patient Experience
Inclusive patient education is the Center for Joint Replacement and Revision program's foundation, and meeting patients preoperatively allows issues or problems to be identified prior to surgery.
During hospitalization, a joint care coordinator works collaboratively with a dedicated team to ensure patients have the best possible outcomes to avoid readmission.
Length of stay is impacted by care that emphasizes early ambulation and encourages patients to be up, out of bed and on the path to recovery.
Community Outreach and Patient Assistance
Coaches Clinic and Free Injury Assessments
For over a decade, Saint Francis has hosted two yearly clinics to improve the region's athletic coaching – focusing on coaching principles, injury prevention and management, team-building, nutrition and more.
By treating injuries and ailments quickly, Saint Francis' Rehabilitation Services makes it easy for athletes of all ages and levels to reach and maintain peak performance.
Neurosciences Institute
Saint Francis' Neurosciences Institute provides leading-edge diagnostics, procedures, treatment and care for injuries and illnesses of the brain, spine and nerves, all while adhering to the most rigorous quality and patient safety measures.
Our Team
Staffed by a highly experienced team of neurologists, neurosurgeons, neuroradiologists, nurses, technicians and rehabilitation specialists, we employ the latest advances in medical technology to relieve discomfort, speed recovery and minimize inpatient stays.
The Stroke Center
Saint Francis' stroke team provides advanced diagnostics
, case management, education and prevention materials, emergency care and intervention. In a time-critical stroke situation, the team:
Receives notification by EMS crews if a potential stroke patient is en route
.
Identifies treatment options and begins rapid emergency treatment within 1 hour of arrival.
Accreditation and Outcomes
Accredited Stroke Center
As a result of compliance with national standards and extraordinary outcomes from the nation's leading accreditation organization committed to improving safety and quality in healthcare, Saint Francis has earned The Joint Commission's Gold Seal of Approval® for stroke care four times.
It has also received The Joint Commission's Certificate of Distinction in Disease-Specific Care for Primary Stroke Treatment four times.
The Stroke Center was most recently reaccredited in November 2015 (accreditation valid for two years).
Saint Francis' Improved Door-to-Needle Time
A National Institute of Neurological Disorders and Stroke symposium recommends patients treated with intravenous tissue plasminogen activator (tPA) have a door-to-needle target time of 60 minutes.
Current American Heart Association and American Stroke Association guidelines also recommend that evaluation and treatment be within the hour of the patient's arrival in the emergency department.
From July 2015-June 2016, the average door-to-needle time at Saint Francis' Neurosciences Institute was 53 minutes.
From July 2016 to October 2016, the average door-to-needle time was 49 minutes.
Saint Francis knows the importance of recognizing a stroke rapidly and working quickly to reverse the potentially life-threatening effects of a stroke. For this reason, we are striving to decrease our door-to-needle time to less than 45 minutes.
In September and October 2016, the average door-to-needle time was 30 minutes and 34 minutes, respectively.
Level II Stroke Center Designation
Saint Francis also received the Level II Stroke Center designation, the newest component of the Time Critical Diagnosis (TCD) System, from the Missouri Department of Health and Senior Services (DHSS). As a Level II Center, it treats over 500 patients yearly for stroke and Transient Ischemic Attack (TIA), a future stroke sign, and provides advanced care to high patient volumes to meet specialized medical team availability requirements. The system's goal is for stroke sufferers to receive quicker response times for improved survival and recovery rates.
TCD brings the 911-response system, ambulance services and hospitals together in a coordinated effort to provide patients the right care at the right place in the right amount of time.
Patients treated within three hours of the start of stroke symptoms are at least 30 percent more likely to recover with little or no disability.
Community Outreach and Patient Assistance
Community Services
Community wellness education
Monthly stroke screenings
Annual risk assessments
Stroke counselor meetings to assess and mitigate risk
Outreach Clinics
Saint Francis Healthcare System provides leading-edge neurosciences care to those who live in Farmington, Poplar Bluff and Sikeston. Patients now have access to Saint Francis' neurosciences specialists, technology, treatment options and resources.
ALS Clinic
Amyotrophic lateral sclerosis (ALS or "Lou Gehrig's disease") is a disorder in which certain nerve cells in the brain and spinal cord slowly die. Saint Francis' ALS Clinic, the only one of its kind in the region, provides specialized care that improves patients' quality of life through a multidisciplinary team. It offers:
Expert consultation and diagnosis
Comprehensive care and disease management
New treatments and therapies to extend and increase quality of life
A team of speech, respiratory, physical and occupational therapists; social workers; a neuropsychologist and nurse coordinator; and ALS Association case management
Share This Page: