State-of-the-Art Rehab Facility in Cape Girardeau
As the leading inpatient rehabilitation facility in the region, Saint Francis' state-of-the-art, 24-bed unit (23 bed facility with a transition to home apartment) offers comprehensive and coordinated programs in one convenient location for patients with cognitive, physical and functional deficits.
Our program significantly exceeds regional and national outcomes for returning patients back to their community.
Our rehabilitation program averages 90% discharge to community, compared to regional and national averages of 75% and 77%, respectively.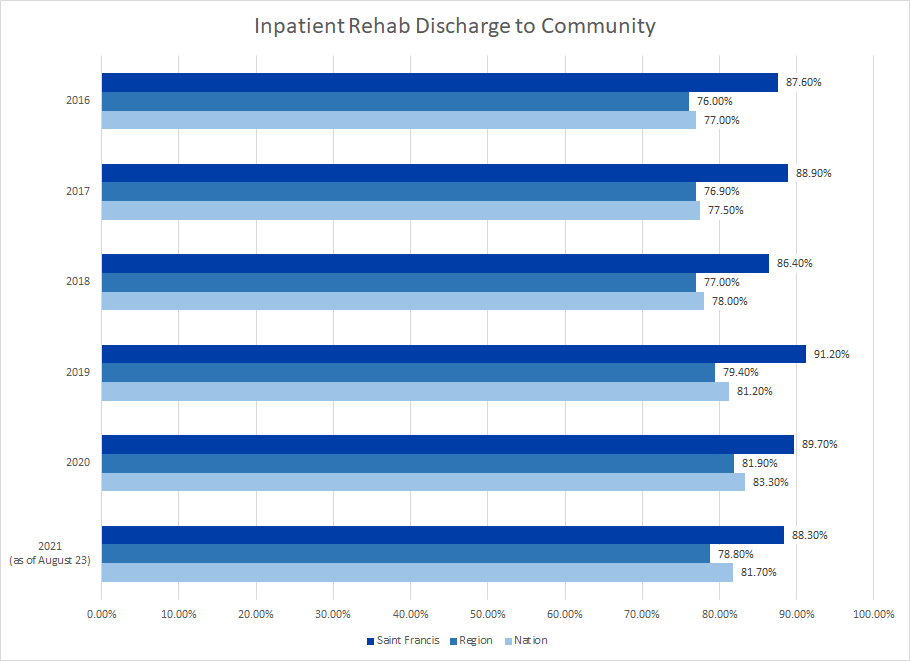 Recognitions & Accreditations

Our goal is to enhance every patient's quality of life through improved health maintenance and effective injury and illness management. Our highly-trained staff provide some of the most advanced approaches to rehabilitation. Together the team and patient establish individualized goals for the best treatment progression as each patient works toward achieving an optimal level of independence and improved health.
Managed Conditions
Amputation
Autoimmune Diseases
Brain Tumor
Cardiac Injury including Open Heart
Critical Myopathy (ie COVID-19)
Guillian Barre Syndrome
Major Medical
Medically Complex Joint Replacements
Multiple Sclerosis
Multiple Trauma
Stroke
Traumatic Brain Injury
Spinal Cord Injury
Services Available
Physical Therapy – Improves mobility and strength
Occupational Therapy – Increases independence and quality of life related issues
Speech/Language Pathology – Covers a range of deficits including language, cognition, swallowing and voice
Rehabilitation Nursing – Improves bowel and bladder management, medication management, wound care and patient education
Case Management – Coordinates discharge planning and equipment acquisition
Pastoral Care – Provides spiritual and emotional support as well as stress reduction
Neuropsychology – Helps to develop coping skills and establish appropriate expectations and modification of lifestyle in accordance with patients' new physical limitations.
Dietitians – Establish guidelines with patients to follow regarding disease specific management of food intake
Respiratory Therapists – Help patients counter conditions that affect breathing and provide education to assist them in dealing with chronic disease when they return home.
Specialty Services Covered
Physical and Occupational Therapy
Bioness

Overhead Lift and LiteGait System
Neuromuscular Electrical Stimulation (NMES)
Vestibular Rehabilitation
Prosthetics and Orthotics
Lymphedema Management
Custom Upper Extremity Splinting
Wound Care and Management
Speech/Language Pathology
VitalStim Therapy

Fiberendoscopic Evaluation of Swallowing (FEES)
Modified Barium Swallows (MBS)
Deep Pharyngeal Neuromuscular Stimulation (DPNS)
Inpatient Rehabilitation Medical Director
Board certified physical medicine and rehabilitation physician Heidi J. Hunter, MD, is the full-time medical director for Inpatient Rehabilitation. Dr. Hunter is a graduate of the University of Missouri-Kansas City Medical school, and served as Chief Resident at Ohio State University Medical Center. Her clinical interests include traumatic brain injury, spinal cord injury and stroke patients.
For more information on Inpatient Rehabilitation Services, call 573-331-5980.