Our primary care doctors in Sikeston, Scott City, Charleston and East Prairie get to know your history, your story and provide personalized care for the whole you — mind, body and spirit.
When you are sick, you do not have to wait to get the care you need. Our same-day appointments are available virtually and in person. And with offices across Southeast Missouri, trusted care is always close to home.
What is primary care?
Primary care is the care a patient receives at his or her first contact with the Healthcare System, as well as the continuing, comprehensive and preventive care a patient and/or family receives over time. This type of care is not limited to age, gender or specific medical issue. Primary care may also include:
Health promotion
Health maintenance
Patient education
Pediatrics
Diagnosis and treatment of acute and chronic illnesses
Counseling
Referrals to other healthcare specialists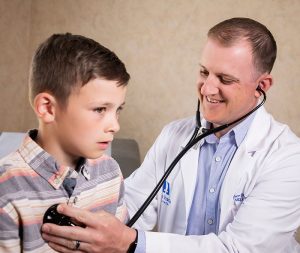 A primary care physician should be a patient's first source for diagnoses, prescriptions and lifelong medical guidance. Establishing a relationship with a primary care physician can help each family member maintain his or her health and peace of mind for a lifetime.
Why is primary care important?
Saint Francis Healthcare System's primary care physicians play an important role in you and your family's overall health and well-being. Our physicians are available to treat any immediate health problems that may arise, such as influenza, and also help you manage any long-term health issues you may have, like hypertension (high blood pressure) or high cholesterol. They keep a running record of your blood pressure, weight, screenings and immunizations to support your preventative care.
What do primary care doctors cover?
Saint Francis Healthcare System's primary care physicians specialize in the following areas of medicine:
Family Medicine – Newborns to older adults
Internal Medicine – Adults
Pediatrics – Newborns, infants, children and adolescents
Rheumatology – Arthritis and other diseases of the joints, muscles and bones