Unprecedented Time, Endless Gratitude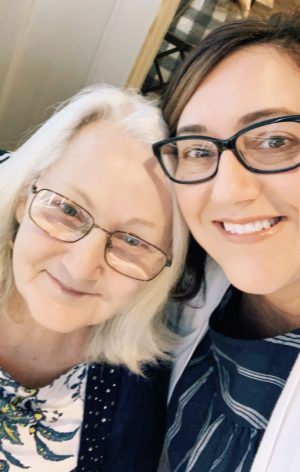 A nurse practitioner at Cape Medical Oncology, a Saint Francis medical partner, Kim Peters, MSN, APRN, AGNP-C, has experienced the impact of COVID-19 threefold: As a healthcare provider, as a patient and as a mourning family member suffering the loss of a loved one during the pandemic. Through it all, Peters feels the compassion and support of her Saint Francis Family. Grateful for their support, she shares the following kind words.
"Thank you for all that you and others have done during this unprecedented time. I have seen things from both sides: From being a provider during this time, having COVID myself and losing my mother to the virus. I have seen firsthand the compassion, strength and care our COVID-19 staff provides. It was the most difficult thing I have ever gone through in my life, and I could not have done it without the support of Saint Francis," Peters explains.
"My colleagues were so supportive. Human Resources and Employee Health led the way as I returned to work. This was all new to me, and it was overwhelming and confusing. They made it so much easier," shares Peters.
Final Journey
Peters' mother Trudy Aldine Houston contracted COVID-19 in April 2020. Houston was admitted to Saint Francis Medical Center for care, but later succumbed to the virus.
"The management at Cape Medical Oncology were also very supportive and helped me immensely during our journey. I cannot say enough about the COVID staff. They are the best! They took such incredible care of my mother. They did all they could do for her. She loved every single person she came in contact with and could not quit bragging about them," continues Peters.
Hospitalist Gretchen E. Price, DO, cared for Peters' mother during her battle against COVID at Saint Francis. "[My providers] kept in contact with me frequently with updates and also checked on how I was feeling. Dr. Price was wonderful as well and was so compassionate. She was just unbelievably supportive," emphasizes Peters.
A Daughter's Lifeline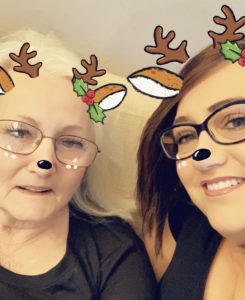 Rachel Telle, RN, BSN, and Mark Proffer, RN, BSN, are frontline healthcare heroes on the COVID Care Unit at Saint Francis. About her colleagues, Peters says "Rachel and Mark were the nurses who took care of my mom the most, and they both called me sometimes twice a day to give me updates. They played music for my mom for comfort. They let me FaceTime my mom before she was intubated because they knew that it could the last time that we would be able to speak. Unfortunately, it was. I will always be so grateful that they did that. After she was intubated, they let me FaceTime her again and kept me informed of everything that happened. The communication was incredible. It was my lifeline. When my mom was declining, they were so compassionate and kind as they prepared me for her passing. They even arranged for her pastor to pray over her."
"All of this made such a difficult situation so much easier to handle. It was so hard to not be with my mother during her battle, but I knew, without a doubt, that the people she had surrounding her were fighting with her and that they truly cared. I can never say enough thanks and will be forever grateful. I really want to express how much Saint Francis means to me and how much of an impact my work family has had on me and the lives of my family members," shares Peters.
Trudy Aldine Houston, 71, of Cape Girardeau, Mo., passed away May 14, 2020 at Saint Francis Medical Center in Cape Girardeau. She leaves behind her sister Joyce Billy Clubbs, brother Spencer Fodge, daughter Kim Todd Peters, two sons Dennis and Glenn Hartwick, seven grandchildren Taylor, Ethan, Eli, Lauren, Hailey, Glenn Jr. and Logan and two great granddaughters Layah and Kenzi. She was preceded in death by her father and mother JD and Talitha Fodge and two brothers Dennis and Ronald Fodge.