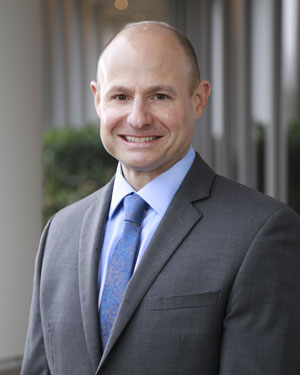 Joel Sander, MSPT, MBA, serves as Vice President – Primary Care Services for Saint Francis Healthcare System. Sander is responsible for Saint Francis primary care clinics in Cape Girardeau, Jackson and Farmington, as well as the Orthopedic and Neurosciences service lines. His operational oversight includes Cape Physicians Associates, Cape Primary Care and Immediate Convenient Care, Saint Francis Clinic Jackson, Farmington Physician Associates, Advanced Orthopedic Specialists, Cape Spine and Neurosurgery, Cape Neurology Specialists, Cape Neurosurgical Associates, Rehab Medical and Cape Care for Women.
Sander joined the Healthcare System in 2003 as a Staff Physical Therapist. Throughout his time at Saint Francis, he has served as Manager of Outpatient Rehabilitation Services and, from 2015 to 2021, Director of Orthopedics, Rehab and Fitness. Over the years, he has been instrumental in major projects, including onboarding Advanced Orthopedic Specialists from private practice to Saint Francis Medical Partner and the construction of Saint Francis Clinic Dexter.
Sander completed his Bachelor of Science in Health Management from Southeast Missouri State University, Master of Science in Physical Therapy from Washington University in St. Louis and a Master of Business Administration from William Woods University.
He serves on the Elder Board of St. Andrew Lutheran Church in Cape Girardeau and participates in the Cape Girardeau County Public Health Center's Healthy Community Coalition.