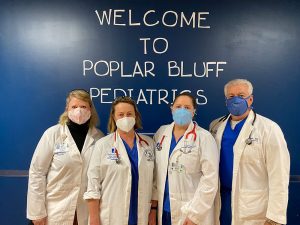 At Poplar Bluff Pediatrics, we consider ourselves a family. Our staff works together as a team to ensure that our patients receive quality care. In our office we strive for excellence, and we expect nothing but the best because meeting our patients' healthcare needs is our passion. We love watching our patients grow from an infant, to a toddler, to a child, and to an adolescent.
Our pediatricians have been providing quality pediatric care in the region for over 20 years. In June of 2000, we became an independent medical practice under the leadership of our current physicians. During our long history, our physicians have exercised great care to provide high-quality treatment and exhibit sincere concern for our patients.
It is both our desire and obligation to give our patients, and their parents, a satisfying and comfortable healthcare encounter. As an extension of the physician, we expect patients to be treated with kindness in a professional, caring manner.
Hours
| | | | |
| --- | --- | --- | --- |
| Monday: | 9 am | - | 5 pm |
| Tuesday: | 9 am | - | 5 pm |
| Wednesday: | 9 am | - | 5 pm |
| Thursday: | 9 am | - | 5 pm |
| Friday: | 9 am | - | 5 pm |
Keep Your Child Healthy with Regular Exams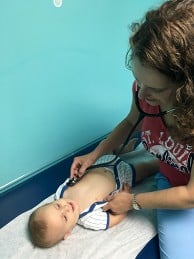 The best way to keep your children healthy and prevent medical issues before they start is to ensure they are receiving routine checks. We recommend that children receive full exams along with any necessary vaccinations at 2 weeks, 2 months, 4 months, 6 months, 9 months, 12 months, 15 months, and at age 2. After the age of 2, children should continue to receive exams on a yearly basis to ensure optimal health and wellness.
Regular Exams Include
Vision screening
Urine screening
Anemia screening
Medical exams
Pediatric physicals
Height measurements
Weight measurements
Routine vaccinations
Assessment of developmental milestones
Questions about diet
Age specific education
Choosing to Skip Vaccinations Could Put Your Child at Risk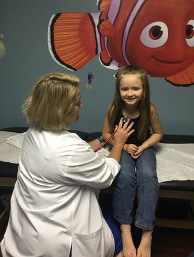 Published information and research concludes that vaccinations help save millions of lives every year. Skipping them is dangerous! The science behind vaccinations is simple and reliable. They provide very little risk and enormous benefits for your child. Still have concerns? Our experienced staff is always happy to answer any questions and provide additional information regarding this matter.
Recommended Pediatric Vaccinations
IPV – Polio
Tetanus shots
Haemophilus Influenza Type B
MMR – Measles, Mumps, Rubella
Chicken Pox
Hepatitis A and B
Rotavirus vaccine
Prevnar vaccine
Gardisil vaccine
Meningitis vaccine
Flu shots
Ensure You're Prepared for Your First Visit
At Poplar Bluff Pediatrics, it is our primary goal to provide every patient under our care with personal service and the detailed attention they deserve. Ensure your transition to working with us is as easy and seamless as possible when you follow the tips below.
What To Bring With You
Insurance card(s) – We are in network with:

Anthem: Blue Access, Blue Perferred, Traditional, Pathway, and Pathway X
Healthlink: PPO, and Work Comp (NOT HMO)
UnitedHealthcare: UHC Products, Choice, Select, Golden Rule, UMR, Navigate, Core, Compass, Charter, Medicare Advantage/Optum Behavior Health, Medicaid
Aetna-Coventry: PPO Networks: GHP PPO Network, GHP PPO Select Network, Coventry/National Accounts Network, TPA, First Health, Self Funded, CMR/ASO/TPA
Humana: Commercial Medicare
Multiplan: All Networks
MHBF: All
Cigna: Greatwest
Missouri Care: Medicaid
Home State Health: Medicaid
Evolutions Prime Missouri

Complete immunization records
Medical records from your previous pediatrician
Letter of medical consent (if someone other than the parent is bringing your child)
Meet the Providers
Advanced Practice Providers: