Home Health Earns Five-Star Patient Survey Rating from Medicare's Care Compare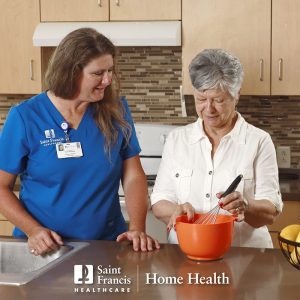 Saint Francis Home Health has received a five-star patient survey rating from Medicare's Care Compare for its commitment to delivering quality home care services. The rating recognizes Home Health's commitment to developing a personalized plan of care to each patient and delivering consistent, quality care.
"Saint Francis Home Health nurses and therapists always strive to provide excellent care and the five-star patient survey rating reinforces the quality care we provide to all of our patients," said Claire Kneer, RN, BSN, MHA, Director of Home Health, Hospice and Palliative Care at Saint Francis.
According to the Center for Medicare and Medicaid Services, Care Compare provides tools like "star ratings" that summarize some of the current healthcare provider performance measures. The star ratings come from the patient experience of care survey, also called the Home Health Consumer Assessment of Healthcare Providers and Systems (HHCAHPS) survey. This survey is the first national standard for collecting data on home health agency patient experiences that allow for comparison between different home health agencies. The patient survey asks patients, their families or friends about their home health care, and if they would recommend that agency to someone else.
"The five-star patient survey rating exemplifies our patient-centered approach to care using a multidisciplinary team," said Lisa Newcomer, RRT, MBA, FACHE, Vice President of Regional Operations at Saint Francis. "We are extremely proud of the dedication and commitment by our home care team in providing the highest quality care possible with the patient as a core member of our team."
To learn more, visit medicare.gov/care-compare.