Saint Francis Oncologists Recognized for Clinical Trial Enrollment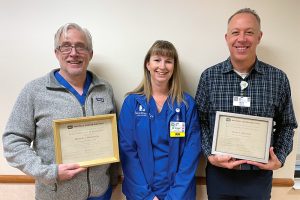 Medical and radiation oncologists at the Saint Francis Cancer Institute recently received recognition for clinical trial accruals (enrollments) through the National Cancer Institute's National Community Oncology Research Program (NCORP).
The awards were announced at NCORP's annual meeting, recognizing investigators (providers) who enrolled patients in NCORP-sponsored clinical trials from August 1, 2021, to July 31, 2022. NCORP is comprised of 7 research bases and 46 community sites. Saint Francis has been designated as an NCORP site since 2013 and belongs to Heartland Cancer Research.
Michael J. Naughton, MD, medical oncologist at Cape Medical Oncology, a Saint Francis Medical Partner, received a Gold Award for 10-39 accruals. Mark A. Meadors, DO, medical oncologist at Cape Medical Oncology, received a Silver Award for five-to-nine accruals.
Carlos Robles, MD, medical oncologist at Cape Medical Oncology, and Benjamin D. Goodman, DO, and Sagar C. Patel, MD, radiation oncologists at Cape Radiation Oncology, a Saint Francis Medical Partner, all received Honorable Mention for one-to-four accruals.
"Clinical trials are a centerpiece to any good oncology program, bringing cutting-edge treatments to the standard of care," said Meadors. "Clinical trials allow us to utilize treatments before hitting the market on a broader scope. The patient benefits from receiving treatment they would not otherwise receive and earlier. Many times, that makes the difference."
The Saint Francis Cancer Institute is dedicated to providing the highest quality cancer care in southeast Missouri and the surrounding five-state region. Accredited as the only Comprehensive Community Cancer Program in the region by the Commission on Cancer, a quality program of the American College of Surgeons, the Cancer Institute focuses on raising care standards that improve outcomes for patients, from the first detection through treatment and into remission. The primary goal is to provide patients with excellent, patient-centered care close to home and the support of loved ones.