November is National Lung Cancer Awareness Month!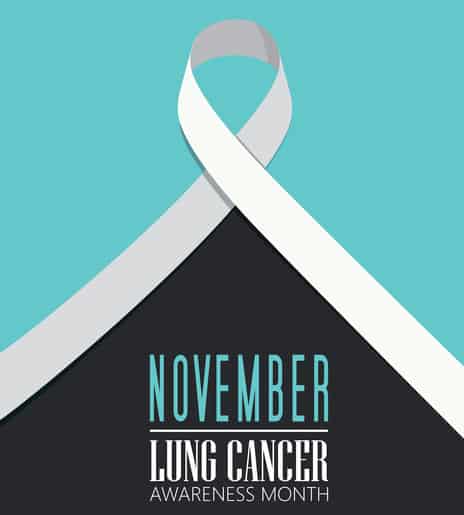 Saint Francis Medical Center offers free lung cancer screenings the second Thursday of every month, funded by the Saint Francis Foundation. If you're aged 50-74, a heavy smoker, a former smoker, or at high risk for lung cancer, please speak to your primary care provider about arranging a screening appointment for you.
Additional lung cancer statistics are available at cancer.org.
Lung Cancer Facts
Lung cancer is the leading cause of cancer death among men and women in the United States. Smoking is the cause of 90 percent of all cases. Because lung cancer goes undiagnosed until later stages, prevention or early diagnosis is the key.
Prevention
The best way to prevent lung cancer is to stop smoking. If you are not a smoker, you can decrease your chances of getting this disease by avoiding second-hand smoke, and exposure to high levels of pollution. If you are showing signs of lung cancer, schedule a CT scan of your chest as soon as possible.
Saint Francis was the first in the area to offer free lung cancer screenings to those that qualify. For more information on the next screening or to see if you qualify, call the Consumer Call Center at 573-331-3996. To learn more about our lung cancer screenings, click here to view our report.
Diagnosis
Lung Cancer treatment begins with early diagnosis. At Saint Francis, we use a team approach to catch this disease in its earliest stages. The following measures are used to diagnose lung cancer:
Genetic counseling program to determine your risks for lung cancer so you can take steps to proactively manage your health
Chest X-rays
Computerized tomography (CT) scans
Saint Francis also offers endobronchial ultrasound (EBUS), a procedure that enables safer, more accurate biopsies of chest lymph nodes so physicians can detect and diagnose lung cancer, infections, and other lymphatic diseases. The EBUS bronchoscope is less invasive than than histologic sampling—patients can have the procedure done in an outpatient setting and return home without incisions or scarring.
Treatment
Under the direction of board certified medical and radiation oncologists, Saint Francis Medical Center offers a variety of treatments for lung cancer, including:
Advanced surgery to remove tumors in the lungs
Intensity modulated radiation therapy (IMRT)
Frameless stereotactic radiosurgery
CyberKnife® Robotic Radiosurgery System, which delivers high doses of radiation with pinpoint accuracy to surgically complex or inoperable tumors in the lungs
Chemotherapy
Biological drug therapy
Immunotherapy