Saint Francis Medical Center's Heart Hospital in Cape Girardeau offers several procedures and treatments for cardiovascular disease. Our experienced cardiothoracic and vascular surgeons, cardiologists, nurses and technologists work 24 hours a day to perform bypasses, insert stents and pacemakers, and replace valves. We use the latest technology, such as the da Vinci Robotic Surgery System, which gives surgeons unparalleled surgical accuracy by combining 3-D visualization, high-definition cameras and four robotic arms.
Transradial Catheterization
Saint Francis Medical Center's Heart Hospital was among the first facilities in southeast Missouri to offer transradial catheterization, which allows doctors to determine if and where blockages exist by accessing arteries through the patient's wrist. This cardiovascular disease treatment allows doctors to perform angioplasty to open a blocked artery with the following benefits:
Fewer bleeding complications
Less pain
The ability to sit up and walk following the procedure
Significantly shorter hospital stays
Stenting
Aneurysms occur when the walls of the artery weaken and expand like a balloon. Stents reinforce the artery and restore blood flow. Our cardiovascular surgeons use three different treatments to repair arteries:
Abdominal aortic aneurysm stent grafting
Abdominal aortic aneurysm stent grafting
Endovascular stent graft
Bypass Surgery
When arteries are blocked, Saint Francis uses three types of bypass to reroute the blood supply. These treatments depend up the type of cardiovascular disease and the location of the blockage. Our heart surgeons use the following:
Coronary artery bypass graft surgery
Minimally invasive coronary artery bypass
Off-pump coronary artery bypass or beating-heart bypass
daVinci Surgery System
The da Vinci® S HD™ Surgical System is the newest innovation in minimally invasive surgery. The system gives surgeons unparalleled surgical accuracy by combining 3-D visualization, high-definition cameras and four robotic arms. As a result, complicated surgeries that were once done with traditional techniques – and the large incisions associated with them – can in most cases now be done with incisions about the size of a dime.
Transcatheter Aortic Valve Replacement (TAVR)
Transcatheter aortic valve replacement, or TAVR, is a minimally-invasive surgical procedure which repairs the valve without removing the old, damaged valve. Instead, a replacement valve is wedged into the aortic valve's place. Somewhat similar to a stent placed in an artery, the TAVR approach delivers a fully collapsible replacement valve to the valve site through a catheter. Once the new valve is expanded, it pushes the old valve leaflets out of the way and the tissue in the replacement valve takes over the job of regulating blood flow.
Transcatheter Mitral Valve Repair (TMVR)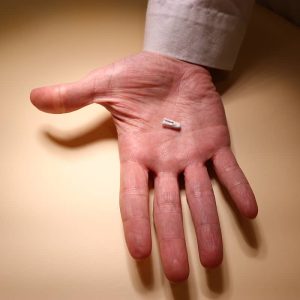 Mitral regurgitation (MR) is the leakage of blood backward through the mitral valve each time the heart contracts. When this happens, patients can experience significant shortness of breath and their activity tolerance may be greatly reduced. Saint Francis Healthcare System offers the MitraClip procedure for those experiencing mitral regurgitation. Patients are evaluated for the MitraClip procedure with cardiac ultrasound imaging completed at Saint Francis Healthcare System's Heart Center. The U.S. Food and Drug Administration approved the MitraClip device for percutaneous (through the skin) repair of primary (degenerative) MR in 2013 and it is successfully treating patients who are considered too high risk for standard surgical mitral valve repair that requires open chest surgery. Primary mitral regurgitation is related to age, a birth defect, or an underlying heart disease.
Learn more about TMVR and the MitraClip device
WATCHMAN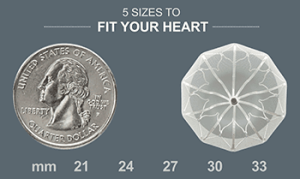 WATCHMAN is a one-time implant that helps reduce AFib stroke risk by permanently closing off the left atrial appendage (LAA) to keep blood clots from escaping. WATCHMAN can eliminate the bleeding risks and regular blood tests and food-and-drink restrictions that come with warfarin. In a clinical trial, 9 out of 10 people were able to stop taking warfarin just 45 days after the WATCHMAN procedure.
Learn more about AFib and the WATCHMAN device
Valve Replacement
When heart valves are not functioning properly, Saint Francis uses a minimally invasive valve replacement procedure where cardiovascular surgeons use one or small incisions in the chest to repair the valves.
Pacemaker Implantation
A pacemaker sends electrical impulses to the heart to help it pump properly. The battery and electrical circuits are implanted in the body, usually under the shoulder or in the abdomen. Wires are placed on the heart muscle to deliver the small amount of electrical current needed to treat the abnormal rhythm.
Other Cardiovascular Disease Treatments
Saint Francis also offers the following cardiovascular treatments to patients in southeast Missouri and Southern Illinois:
Automatic implantable cardioverter defibrillator
Heart port
Percutaneous transluminal coronary angioplasty