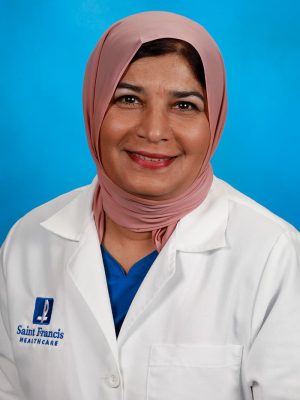 See this provider's profile on Healthgrades
Accepting New Patients!
Reviews for Rubina A. Mirza, MD
---
Dr. Mirza brings amazing skill, professionalism, but most of all compassion as a doctor and sweet soul.
I knew when i had a heart attack and needed open heart surgery and Dr Mirza stayed with my family ( coffee and food also) the whole nite that she was compassionate and truly one in a million! 9 years later, she is the best experience I have ever had with a Doctor.
There is a saying that if you can't say something good about somebody, don't say anything at all. I'm going to coin my own saying, "if you can say something good about someone, you can't say enough ". And that's how I feel about Dr. Mirza. I can't say enough about her overall care. Not only physically but as a person. She genuinely cares about her patients. I ,and I know others feel the same way,know that she loves all her people. I say people because we are more than JUST patients. Dr. Mirza is a special rare breed of doctor With her it's not only a doctor to patient relationship but more importantly a person to person relationship. She loves children as well. She always asks about our grandchildren.
Excellent provider listens to what you have to say and explains everything thoroughly. Highly recommended.
As a it's myself it is easy to recognize over the top caring and compassion. Dr Mirza she is not only this but also the most thorough and intelligent cardiologist I have ever encountered. Good job hiring this lady!
Very personable to us. Seems very concerned about my health. Very accessible. I followed her to Saint Francis because I appreciate her expertise and care. Highly recommend her to heart patients.
She is one best doctors I have ever been to. She is very thorough and always listens to your concerns. Both my husband and I have gone to her for years and and we trust her with our lives. We are very thankful for her excellent care over the years. And we would never go to anyone else.
Dr Rubina Mirza is litterally a Godsend. She was an answer to prayer for my Mother. She took great care of her not just her heart but Dr Mirza cares about her patients as individuals and their overall wellbeing. My mom had many heart issues and always said she wanted to be able to dance at her 90th bd. Dr Mirza' s excellent care was in large way part of the reason my Mother saw her dream come to pass as she was surrounded by family and friends and did in fact dance at her 90th birthday and lived 8 more happy months. After such great care of my mom I now see Dr Mirza for myself and although she doesn't practice where I live she is well worth the drive and St Francis Hospital worth switching to just to insure I can be one of her patients as I know first hand the quality of care she has for not just some but all her patients. She is ultimately the heart Dr with a true "heart of compassion for her patients".
Moving to a new area and finding new doctors can be tough. Dr. Mirza has been an absolute wonder making the process stress and anxiety free. she really listens and taxes her time to explain and really talk to you. The level of care and knowledge I have received has been outstanding. I definitely recommend
When I came to Dr. Mirza I was having a lot of different medical issues. She helped me find and regulate new medications, she has been extremely patient and addressed all of my concerns. I have never received such complete and attentive care before. Because of her I am finally on the road to recovery. I 100% recommend her to anyone with cardiac needs
Board Certification
American Board of Internal Medicine
ABIM Subspecialty in Cardiovascular Disease
ABIM Subspecialty in Interventional Cardiology
Medical Education
1995 - Baqai Medical College/Karachi University in Karachi Pakistan
Residency
2000 - University of Illinois/Carle Foundation Hospital, Urbana, IL
Fellowship
2004 - Baptist Ease Hospital, Knoxville, TN
2003 - Michigan State University, East Lansing, MI