Saint Francis Auxiliary Recognizes 2022 Volunteers and Auxilians of the Year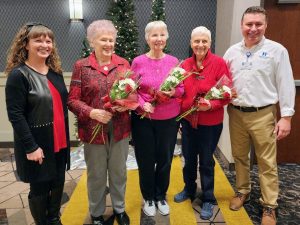 Saint Francis Healthcare System's Auxiliary held their annual Volunteer Christmas Breakfast at the Drury Plaza Hotel Conference Center in Cape Girardeau on December 13. Numerous volunteers were in attendance as well as members of the Saint Francis Executive Team, Friends of Saint Francis Board members and Saint Francis Foundation Board members.
"We consider our volunteers frontline colleagues and part of the Saint Francis Family," said Stacy Huff, Executive Director – Foundation. "We greatly appreciate everything they do to faithfully serve our patients and visitors, help raise funds, advocate and support our Mission."
Since 1989, 40 volunteers have been recognized as Volunteer of the Year at the breakfast, and this year, Saint Francis recognized two Volunteers of the Year and two Auxilians of the Year. Evelyn Taylor and Cordelia Peters were named Volunteers of the Year. Carolyn Wright and Ann Bodenstein were named Auxilians of the Year. The awards are based on years of service and hours volunteered.
Taylor is a nurse and has been a volunteer at Saint Francis Medical Center since 2003. She is a previous volunteer of pastoral care and currently greets visitors at Entrance 1. Peters has been a volunteer at Saint Francis Medical Center since 2008 and was instrumental in starting the Auxiliary. She is a former employee who worked at the original hospital located on Good Hope Street in downtown Cape Girardeau.
Wright has been a volunteer since 1995 and is a lifetime Auxilian. She has served in several areas, including the mailroom, and checks in donors during blood drives. Bodenstein has been a volunteer at Saint Francis Medical Center since 2010. She has committed numerous hours of service at Inspire Boutique and greeting guests at Entrance 1.
Interested in becoming a volunteer? Learn more by visiting our Volunteers page or by calling 573-331-5166.