Saint Francis Foundation Welcomes Four New Board Members
Saint Francis Foundation added four new members to its board of directors this year. They are: Dr. Andrew Boldrey, pediatrician; Tucker Davis, bank vice president; Barbara Mueller, RN and technology professional; and Angie Womack, real estate associate.
Jimmy Wilferth, VP of Foundation and Marketing at Saint Francis Healthcare System is excited about adding members with diverse and valuable experiences to represent a variety of ideas and opinions from throughout the region.
"These additions make our board stronger and more strategic. As Saint Francis Healthcare expands in the region, it is critical to have representatives from a wide area, both geographically and philosophically."
"I was honored to be asked to join the Foundation Board. I jumped at the opportunity to get in on the ground floor as the Foundation expands into new communities, like Sikeston and East Prairie," said Dr. Andrew Boldrey. "There is such a great need, in general, in rural Southeast Missouri. I am proud to be part of an organization that will make an impact in helping meet those needs," he added.
Boldrey has been a pediatrician with Ferguson Medical Group (FMG) since 2005 and became a Saint Francis colleague when FMG merged with Saint Francis in January, 2019. Dr. Boldrey attended University of Missouri – Kansas City and completed his internship and residency at St. Louis Children's.
Boldrey comes to the board with a great deal of energy and ideas, some of which he generated during the annual colleague giving campaign – Power of One. He rallied physicians and staff together in the FMG system to help make the campaign the largest in history at more than $286,000. The Power of One campaign raises funds to help colleagues, patients, families and members of the community.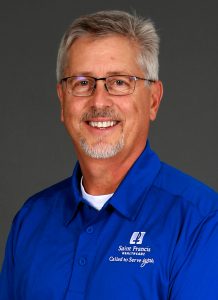 Tucker Davis is Senior Vice President at First Midwest Bank of Poplar Bluff. Davis has been in banking for 23 years. Originally from Arkansas, he is a graduate of University of Arkansas.
Davis was drawn to the Foundation because of the spiritual connection and said yes when invited to serve.
Davis says "The reason I said 'yes' when asked to serve is twofold…first, how can you say no to anything with the mission statement that includes the words 'inspired by Jesus Christ?' Secondly, Saint Francis has become such a great community partner in Poplar Bluff. I wanted to help."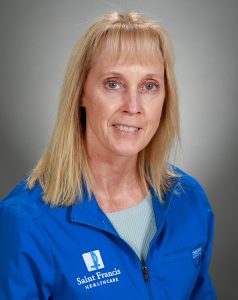 Barbara Mueller is a Saint Francis colleague, working as Director of Clinical Applications in Information Technology. She is also a Registered Nurse.
Saint Francis of Assisi said "it is in giving that we receive." Mueller says about her own giving philosophy: "Giving is so much more than can be put into words. Everyone struggles, and everyone's struggles are not the same. Giving isn't always about money, it is about be willing to put others before yourself and ensure they know they matter, are important, and feel supported. That support occurs in many different forms. Essentially, it is about putting others before yourself."
Mueller has been a supporter of the Saint Francis Caring Fund since its inception 26 years ago, inspired to give by her parents who taught her and her siblings that giving to others in need is the right thing to do.
Angie Womack has a strong history with Saint Francis Foundation, serving on the Friends Board, Friends Development and Golf Committees and helping with the Friends Gala.
Womack is a previous Saint Francis colleague, moving into medical device sales and most recently into real estate sales. She believes her professional and volunteer depth of experience will make her an asset to the Foundation Board.
"Knowing the history of the medical center, the people affiliated, and being a life-long resident of Cape Girardeau, I feel I will bring knowledge and suggestions to the board that will provide continued success for the mission of the Saint Francis Foundation," Womack says.
The Saint Francis Foundation Board of Directors oversees Foundation leadership, planning and fiduciary activities of the Foundation. The Foundation mission is the development, management and distribution of gifts to support Saint Francis Healthcare in its ministry of healing, wellness, quality and love inspired by faith in Jesus Christ. The board meets eight times annually.