Jerry Parker Says TAVR Changed His Life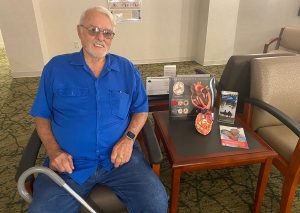 Aortic stenosis, the narrowing of the aortic valve, affects nearly 200,000 Americans each year. This condition obstructs blood flow from the heart and, in severe cases, requires surgery to replace the valve.
Steven J. Joggerst, MD is a board-certified physician at Saint Francis Heart and Valve Center who specializes in interventionist cardiology and the treatment of conditions like aortic stenosis. He utilizes advanced technology and procedures to provide exceptional care to patients in the area. For aortic stenosis, Joggerst utilizes Transcatheter Aortic Valve Replacement (TAVR), a minimally-invasive procedure which allows patients to recuperate and recover much faster than other methods of surgery.
Jerry Parker of Cape Girardeau, a cardiac patient of Dr. Joggerst, underwent a valve-in-valve TAVR after being diagnosed with severe aortic stenosis. Before surgery, Parker was out of breath, extremely tired and miserable for a year. The condition became so troublesome it was difficult to walk or do daily activities. Although this is a very serious procedure, Parker was put at ease by the care Joggerst and the cardiac care team provided. Parker states the medical staff "was the best there is and provided great care and service through the entire process."
Since his recovery, Parker says that "the difference in the way that [he feels] is unbelievable." He finally feels normal doing daily activities and can even ride a bike which was unimaginable before. Parker recommends anyone needing this procedure should go through with it: "They will feel so much better." He credits Saint Francis Heart and Valve Center for his treatment and the major improvement in his overall health.
The Heart Hospital at Saint Francis provides advanced diagnostics, leading-edge cardiac intervention and surgeries, emergency care, cardiac rehabilitation, risk assessments for heart disease, vascular disease screenings and heart education. As a leader in cardiac innovations, Saint Francis was the first Heart Hospital in southeast Missouri to perform cardiac catheterization.