Get Started on Your Path to a Better Quality of Life
Advanced Orthopedic Specialists at the Saint Francis Orthopedic Institute provides you with the freedom you desire and the trusted care you deserve. Patients can easily access a full range of treatments for orthopedic injuries and conditions of the ankle, elbow, foot, hand, hip, knee, shoulder and wrist. Our goal is to get you back on your path to a better quality of life.
"When patients come see us they can find comfort in the fact that we will listen. We will listen to what is bothering them, and then we will work with them to find a solution to that problem," said R. August Ritter III, MD.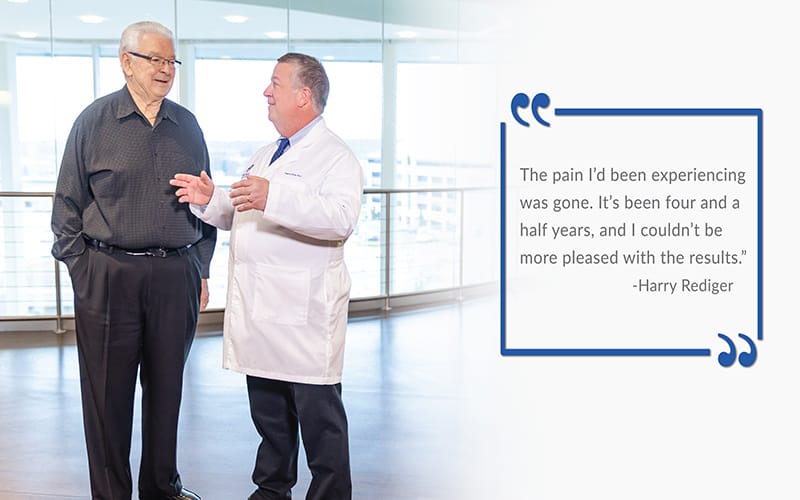 The Best Doctors, Outstanding Outcomes
Certified by the American Board of Orthopedic Surgery, all of our orthopedic surgeons and orthopedists are trained in the latest treatments and procedures.
With more than eighty years of experience and top-in-the-nation rankings for low infection rates and quality outcomes, Advanced Orthopedic Specialists is committed to making a real difference in the lives of their patients.
"I definitely trust them with anybody I care about – my friends, my family – because I just had excellent care from the beginning to the end," said Barbara Strenfel, knee replacement patient.
Specialties
At Advanced Orthopedic Specialists, we have the expertise, the experience, and the technology to deliver excellence in orthopedic care, specialized to meet your individual needs.
Ankle
Elbow
Foot
Hand
Hip
Joint Replacement & Revision
Knee
Pain Management
Physical Medicine & Rehabilitation
Shoulder
Sports Medicine
Wrist
Frequently Asked Questions About Orthopedics
At Advanced Orthopedic Specialists, we strive to provide our patients with the exceptional orthopedic care they deserve.
What is orthopedics?
Orthopedics (alternatively, orthopaedics) is a medical specialty focused on the diagnosis and treatment of conditions, disorders and injuries of the muscles, bones, joints, tendons, ligaments and nerves. A doctor who specializes in this medical specialty is called an orthopedic surgeon.
What is arthritis?
The word arthritis literally means "joint inflammation." Arthritis refers to a group of more than 100 rheumatic diseases and other conditions that cause pain, stiffness, and swelling in joints. Rheumatoid arthritis is a disease damaging the lining surrounding our joints while also destroying our bones, tissue and joints over time. Osteoarthritis is a progressive condition slowly damaging the cartilage surrounding the ends of bones and is common in the hip, knee or spine.
What is bursitis?
Bursitis is an inflammation or irritation of a bursa, which is a fluid-filled sac located around joints. Bursitis causes a reduction in or a loss of motion at the affected joint. Bursitis typically occurs in the heel, hip, knee, shoulder or thumb.
What is tendonitis?
Tendonitis, medically known as tendinitis, is an inflammation or irritation of a tendon. Chronic strain, overuse or misuse of a tendon leading to a repetitive stress injury, or a serious acute injury can lead to a weakness, tear or swelling of the tendon tissue, resulting in pain and stiffness near the tendon. Tendonitis usually occurs in the elbow, hip, knee, shoulder, thumb or wrist, but can occur anywhere there is a tendon.
Should I use ice on my injury? Should I use heat on my injury?
The general rule of thumb is to use ice in the acute stage of an injury (within the first 24-48 hours), or whenever swelling is showing. Ice helps to reduce inflammation and swelling by decreasing blood flow to the area that is injured. The general guideline is to apply ice indirectly (not directly on the skin) for 20 minutes, remove the ice for at least 20 minutes and repeat as necessary.
Heat is used to increase blood flow, which helps promote pain relief after inflammation and swelling subside. Heat is also used to assist in warming muscles up prior to exercise, any physical activity or physical therapy.
Orthopedic Specialists
What is an orthopedic doctor?
An orthopedic doctor, also known as an orthopedist, is a medical doctor (MD) or a doctor of osteopathy (DO) who specializes in the musculoskeletal system—bones, joints, muscles, ligaments, tendons and nerves.
What is an orthopedic surgeon?
Orthopedic surgeons are specialized in the musculoskeletal system; many orthopedists specialize in certain areas of the body, such as foot and ankle, hand and wrist, or back, neck and spine. Additionally, orthopedic doctors may focus on a specific field of orthopedics, like pediatrics, sports medicine or trauma.
Test & Treatment Definitions
What is arthroscopic surgery?
Arthroscopic surgery is a surgical procedure commonly performed to diagnose and treat problems within the joint. By using high-tech cameras, the orthopedic surgeon inserts a small instrument, called an arthroscope, into the joint.
The arthroscope contains a fiber optic light source and small television camera that allow the surgeon to view the joint on a television monitor and diagnose the problem, determine the extent of injury and make any necessary repairs.
What is a bone density scan?
A bone density test is used to diagnosis osteoporosis, which is a disease that causes weakening of the bones that can ultimately results in fractures. In the past, osteoporosis could only be detected after a person's bone broke; however, by using a bone density test, it is possible to know one's individual risk of breaking bones before one breaks.
A bone density test uses X-rays to measure the amount of calcium and other bone mineral packed into the segment of bone. Common areas that are tested using a bone density scan include the spine, hip and forearm.
What is a cortisone injection?
Corticosteroids, more commonly referred to as, cortisone, is a steroid that is produced in the body naturally. Synthetically produced can also be injected into soft tissues and joints to help decrease inflammation.
While cortisone is not a pain reliever, pain may diminish as a result of reduced inflammation. In orthopedics, cortisone injections are commonly used as a treatment for chronic conditions such as bursitis, tendonitis and arthritis to reduce swelling, pain and joint stiffness.
What is a fusion?
A fusion is a procedure in which bones are fused together with bone grafts and internal devices (such as metal rods and screws) to heal into a single solid bone.
What is internal fixation?
Internal fixation is a treatment to hold pieces of a broken bone in the correct position with metal plates, pins or screws while the bone is healing.
What is joint replacement surgery?
Joint replacement surgery is a surgical procedure that is performed to replace an arthritic or damaged joint with a new, artificial joint, called a prosthesis. Joint replacements can be performed on every joint in the body, but most commonly performed in the knee, hip, shoulder and elbow.
Joints contain cartilage. After protecting joints and facilitating movement and over time, or if the joint has been injured, the cartilage wears away and the bones of the joint start rubbing together. As the bones rub together, bone spurs may form, and the joint becomes stiff and painful. Most people have joint replacement surgery when they can no longer control the pain with medication and other treatments and the pain is significantly interfering with their lives.
What is osteotomy?
Osteotomy is a procedure to correct bone deformity by cutting and repositioning the bone.
What is soft tissue repair?
Soft tissue repair is a treatment to mend or fix soft tissues, such as tendons or ligaments.
Call to schedule your appointment today!
Contact Advanced Orthopedic Specialists at the Saint Francis Orthopedic Institute: 573-335-8257.