Ferguson Medical Group – Sikeston, MO Location
Please Note
Ferguson Medical Group – Sikeston will be closed on Saturday, July 4. If you have a medical emergency, please call 911 or go to the closest Emergency Room.
Effective immediately, the Ferguson Medical Group – Sikeston Urgent Care entrance is for urgent care patients only. All other patients with scheduled appointments must use the main entrance by Randy's RX. We appreciate your cooperation!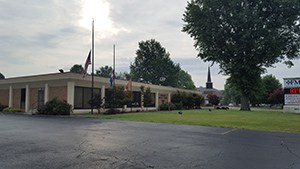 Sikeston is where it all began for Ferguson Medical Group. The clinic still serves as our headquarters and offers Family Medicine, Pediatrics, ENT, Internal Medicine, Behavioral Health, Ophthalmology, Surgical Services and an Urgent Care that is open until 7pm on most weeknights. The facility also offers a fully-staffed Laboratory, Drug Screen services and a Radiology department that includes X-ray, Bone Density testing, Ultrasound and on-site access to MRI and CT testing as well.
1012 North Main Street
Sikeston, MO 63801
573-471-0330
Fax: 573-471-0461
Clinic Hours
Monday – Friday: 8 am – 5 pm
Urgent Care Hours
Monday – Friday: 8:30 am – 7 pm
Saturday: 9 am – 3 pm
Sunday: 1 pm – 4 pm
Providers:
Advanced Practice Providers: